Why Consumers Are Denied Discounts From Russian Crude
Officials from State-run refiners contend that savings from purchase of Russian oil are used to offset a part of the losses in revenues from selling transport fuels and LPG at State-set rates.
Here is a puzzle. The gap between the delivered Russian crude oil rate and the average price of the Indian crude oil basket was as high as $16 a barrel in June, and averaged $7 a barrel in the April 2022-March 2023 period, according to government data.
Russian crude averaged $89 a barrel this fiscal, until January, while the Indian crude basket averaged $96 per barrel.
Russia has emerged as one of India's top crude suppliers this past year.
Yet pump prices of petrol and diesel have been unchanged for nearly 10 months.
Why are Indian refiners not passing on the substantial discounts that they earn from purchases of Russian crude to consumers at the petrol pumps?
That's because the three principal Indian refiners — IOC, BPCL and HPCL — use an opaque formula to price petrol and diesel that are pegged to global product prices and not crude oil.
Since the global prices of refined fuel — especially to Europe — have been high since Russia's invasion of Ukraine, the price that Indian consumers pay to buy petrol and diesel has stayed high too.
In January, the last month for which official data is available, delivered prices of Russian grades were cheaper by $13 a barrel than Saudi crude, according to Indian customs data.
State refiners, led by IOC, bought 29 million barrels, or 57 per cent of Russian crude in February.
IOC alone bought as much as 10.5 million barrels, and BPCL 6.75 million barrels, according to data from Paris-based market intelligence firm Kpler.
After factoring in the average $8-$10 per barrel net discounts earned on Russian Urals compared to alternate crudes, IOC may have saved around $100 million in crude costs, according to calculations based on estimates.
IOC declined to discuss pump prices during an interview request made last month.
Russian discounts have become more important for State refiners in the last few months because the country is now one of the two biggest suppliers of crude to India.
Last month, India imported 1.8 million barrels a day of Russian oil, accounting for 39 per cent of purchases, Kpler data shows, compared with less than 30 per cent share in January and around 23 per cent in June.
The share of expensive Saudi Arabian oil, which is at a premium to Russian grades, has slumped to 14 per cent in February from 16 per cent in January.
Crude from Saudi Arabia, now relegated to the country's third largest supplier after Russia and Iraq, averaged $105 a barrel this fiscal.
Officials from State-run refiners contend that savings from purchase of Russian oil are used to offset a part of the losses in revenues from selling transport fuels and LPG at State-set rates.
If the reduction in fuel rates in May, after New Delhi reduced excise, were excluded, transport fuel prices have been unchanged since April.
During that period, the average price of the Indian crude oil basket has moved from $103 a barrel in April to as much as $116 a barrel in June, before plunging to as low as $78 in December, and then recovering to $82 a barrel in February.
Separately, Indian refiners have gained from strong global gross refining margins (GRMs) across the product spectrum owing to more shutdowns at global refineries.
Tighter supplies support higher global product prices, based on which Indian refiners set domestic rates.
Overall, prospects for Indian refining this year are also because of lower Chinese exports of refined fuels, lower refinery operating rates in Europe, inventories at or near five-year lows and projected demand recovery to pre-Covid levels, said Jefferies, a brokerage.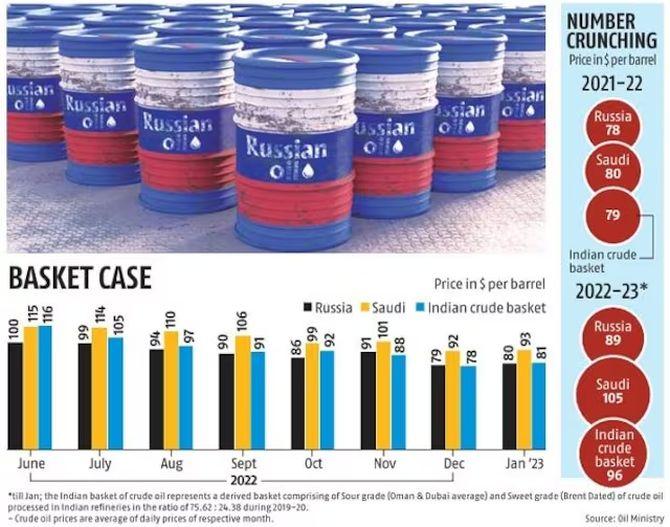 The outlook is bright for Indian refining this year because of closure of some US plants and resurgent Chinese demand, said ratings agency ICRA analyst Prashant Vasisht.
Strong diesel cracks — the difference between the crude and the refined product price — globally have helped Indian refiners, Vasisht added.
Indian refiners compensate for some losses incurred on marketing fuels through higher GRMs.
Domestic refineries are geared towards diesel production.
On paper, Prime Minister Narendra Modi's government freed petrol and diesel prices but, in spirit, it continues to influence rates depending on circumstances, such as elections or soaring inflation.
State-run refiners, which account for the bulk of products sold to the Indian consumer, claim that domestic product prices are adjusted based on global rates of diesel or petrol that are based on price assessments of price reporting agencies such as Platts or Argus, and factor in the rupee-dollar exchange rate.
Ideally, refiners should benchmark against international crude prices, because India imports 87 per cent of its needs, rather than petrol and diesel, which are made domestically, according to oil ministry data.
India is not only self-sufficient in diesel and petrol but also exports these fuels.
Petrol and diesel are typically much more expensive than crude oil globally.
This explains why Russian discounts are not reflected at pumps selling fuels made by IOC, BPCL and HPCL, an industry official said.
Moreover, taxes on petrol and diesel are very lucrative, with a major chunk of New Delhi's Rs 3.95 trillion in excise collection for this fiscal generated from petroleum products.
Losses at State-run refiners this fiscal from selling fuels below market rates will amount thousands of crores, according to refinery officials, at least in part because cheaper Russian crude only kicked in later in the year.
Savings of just a few dollars a barrel can make a big difference to the margins of State-owned refiners, said an official at a State-run refiner.
The government has only allotted around Rs 22,000 crores (Rs 220 billion) towards compensation for cooking fuel subsidies this fiscal, and wants refiners to make up the losses themselves, industry sources said.
That's obvious in the Budget for 2023-2024, which makes no allocation for fuel subsidies.
An official at the Paris-based International Energy Agency said India will continue to be a key buyer of Russian crude after Europe barred Russian purchases.
That means Russia will continue with discounts to stay competitive.
But such discounts will trickle to Indian consumers only if State refiners bring transparency and changes to their fuel pricing regime.
Source: Read Full Article