Philippines grants U.S. military expanded access to bases amid China tensions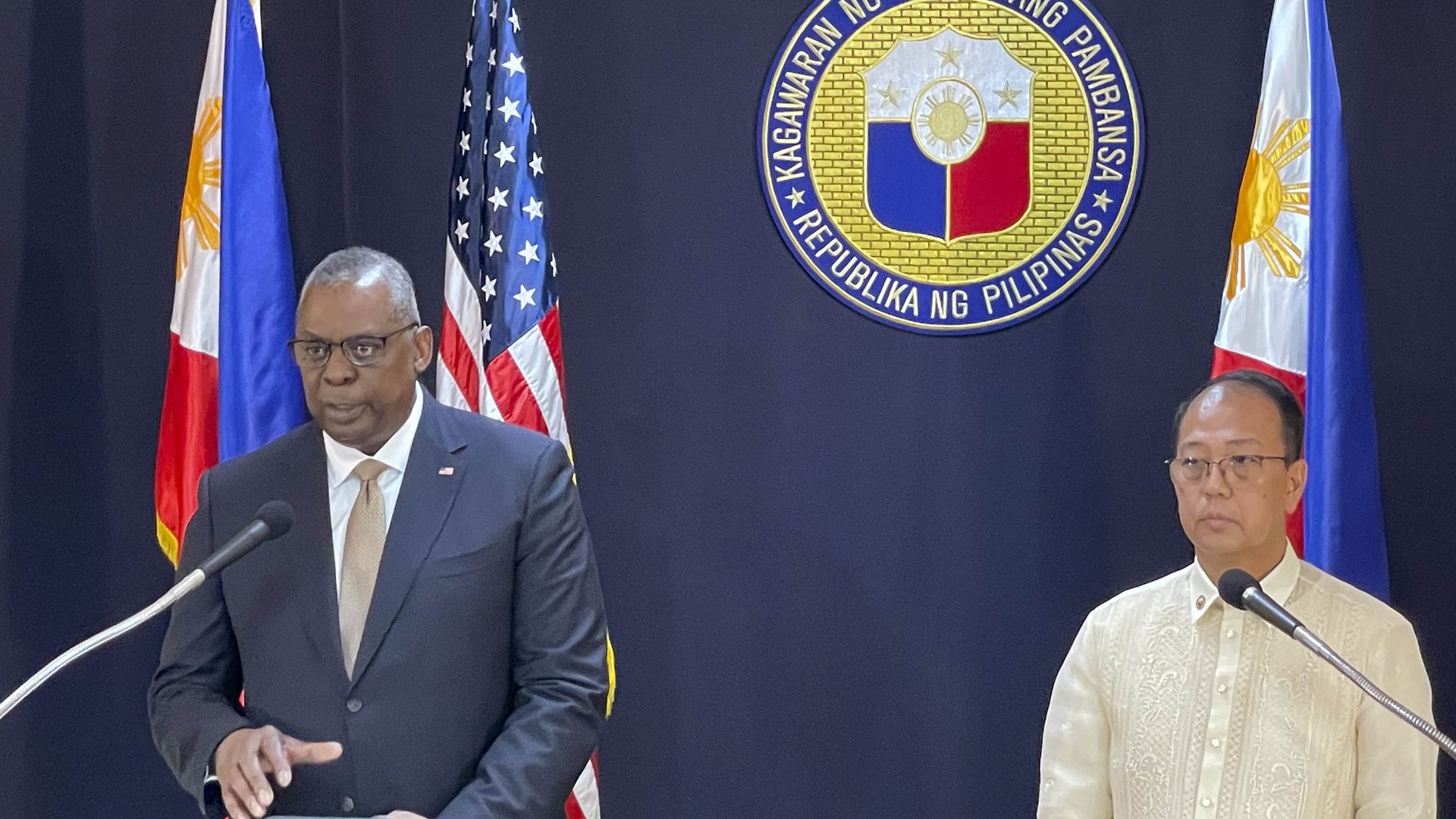 U.S. Defense Secretary Lloyd Austin III (L) talks beside his Philippine counterpart, Carlito Galvez Jr. at a joint press conference in Manila, Philippines. Photo: Joeal Calupitan – Pool/Getty Images
The United States said on Thursday it will boost its military presence in the Philippines after Manila agreed to give the U.S. access to four additional bases as it seeks to counter China's aggression in the region.
Why it matters: The announcement comes amid growing concern over China's increasing assertiveness in the disputed South China Sea and aggression toward Taiwan.
Details: The agreement, announced during U.S. Defense Secretary Lloyd Austin's visit to the Philippines, will add to the five sites the U.S. military already has access to under a 2014 pact called the Enhanced Defense Cooperation Agreement (EDCA).
The two countries did not announce the locations of the four new sites, but the U.S. has long hoped to gain access to the northern island of Luzon, which analysts say could give U.S. forces a strategic position to mount operations in the event of a conflict in the South China Sea or against Taiwan, per the Washington Post.
As part of the agreement, the U.S. has allocated $82 million to improve the infrastructure at the five current EDCA sites.
What they're saying: "The EDCA is a key pillar of the U.S.-Philippines alliance, which supports combined training, exercises, and interoperability between our forces," the two countries said in a joint statement. "Expansion of the EDCA will make our alliance stronger and more resilient, and will accelerate modernization of our combined military capabilities."
The two countries added that access to the four new sites will "allow more rapid support for humanitarian and climate-related disasters in the Philippines, and respond to other shared challenges."
Austin stressed that the sites will not be permanent, saying during a press conference that "it is not about permanent basing, but it is a big deal. It's a really big deal," per the New York Times.
Speaking before his meeting with Austin, Philippine President Ferdinand Marcos Jr. said his country is facing a "terribly complex situation, something we can only navigate properly with help from our partners and allies," according to the Washington Post.
China's foreign ministry, meanwhile, pushed back against Thursday's announcement.
"Out of self-interest, the United States continues to strengthen its military deployment in the region with a zero-sum mentality, which is exacerbating tension in the region and endangering regional peace and stability," spokesperson Mao Ning said, per the Times.
"Countries in the region should remain vigilant against this and avoid being coerced and used by the United States."
The big picture: Thursday's announcement also signifies a continued thawing of U.S.-Philippines relations that were strained under former Philippine President Rodrigo Duterte, whose early pro-China and anti-U.S. stance unnerved Washington.
The two countries frequently conduct joint military exercises. Most recently, some 3000 Philippine and U.S. Marines participated in an annual bilateral exercise in the Philippines, according to the U.S. State Department.
Source: Read Full Article