CBD 2021 Special: Goodbye to all that
Twelve months ago, as everyone dragged their sorry selves over the 2020 finishing line, we were happy to flip the bird on what everyone referred to ad nauseam as the "year like no other".
But lo, here we are 12 months later at the end of 2021, looking back over what turned out to be "another year like no other". Any one up for a three-peat in 2022? Hello, Omicron!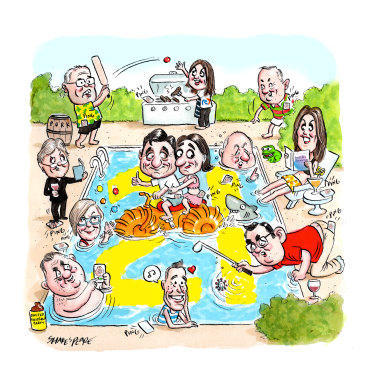 CBD year in review.Credit:Illustration: John Shakespeare
We jest. At least we think we jest. But who had predicted that 2021 would prove to be a super-sized 2020, with more lockdowns, more border closures, more national cabinet dysfunction, more scandals, more COVID-19 and finally, more vaccinations.
Perhaps we shouldn't have been surprised then when the wheels fell off for some of this column's usual suspects. We had Jacqui Lambie blasting airline staff, Jane Halton sending back her blue steak, Alan Jones turned down an invitation to Lachlan Murdoch's end of year bash and ad man John Singleton said a 'goodbye' to long-time financier Mark Carnegie. Not even our premiers managed to emerge unscathed.
Daniel Andrews couldn't stay on his feet. Gladys Berejiklian couldn't stay in her role.
Poor Scott Morrison never needed a trip to Hawaii more. Heck, save for an IV drip of gin, a box set of Midsomer Murders and an endless stream of Mad Men reruns afforded by our company-gifted Stan subscription, 2021 could have been publicly ugly for these columnists. Alas, we were saved by Succession.
Oh, and that hit show's real life muses: the Murdochs which provided precious inches of column fodder during Rupert Murdoch's 90th year. First there was his delayed 90th birthday bash at his historic pile in Holmwood, his historic pile in the Chilterns attended by UK Foreign Secretary Liz Truss, Chancellor Rishi Sunak, legendary performer Barry Humphries and Isaac Levido, the youthful Australian political strategist to both BoJo and ScoMo. Just one thing seemed to be missing: Murdoch's youngest son James Murdoch who was a no-show, even on the vid. JRJM was also AWOL from the supplementary Central Park bash in New York.
But our favourite Murdoch award goes to Lachlan Keith Murdoch for returning to Sydney and reviving News Corp's real-time succession planning process known as the Christmas Bash. Alongside Holt Street's finest including Australasian executive chairman Michael Miller and ambitious Sky News chief executive Paul Whittaker, guests included Tabcorp director David Gallop, Qantas boss Alan Joyce and Bombardier Global Express enthusiast Andrew Forrest and wife Nicola who we're told brought no shortage of festive cheer to Bellevue Hill's own version of Chiantishire.
But there was plenty more action taking place in production rooms over the year to fill the column. Of course, there was Whittaker's decision at Sky to ditch Jones in November in a move which book ended the presenter's on-air career of almost 40 years. And there were new entrants into the station too, including Andrew Bolt's son James Bolt who joined the network as a producer.
But the action at Sky paled compared to the drama taking place inside the Ultimo and Southbank offices of the ABC where Sydney's defamation double act of lawyer Rebekah Giles and barrister Sue Chrysanthou made hay repping former attorney-general Christian Porter in his defamation action against star reporter Louise Milligan and again repping accident-prone Liberal MP Andrew Laming in his action against the broadcaster.
There was also upheaval with longstanding news director Gaven Morris departing the broadcaster. Aunty appointed network and news-gathering boss Gavin Fang as his interim replacement in a move staff described as G1 being replaced by G2.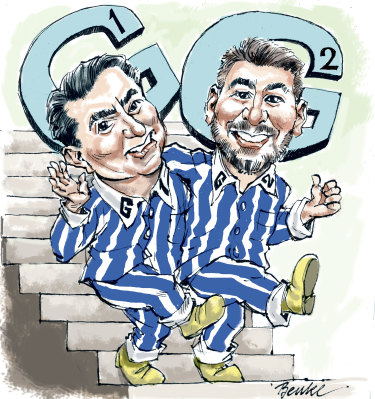 Gaven Morris and Gavin Fang of the ABC.Credit:Illustration: Joe Benke
But who needs a newsroom for drama when other power players and corporate giants are so adept at generating blockbuster story lines themselves.
Crown Resorts' appearance before very public inquiries in two states over the past 18 months has played out as truth stranger than fiction. So too with the real-life spy catcher – sorry, superspreader – affair that made a compelling backstory to the release of Malcolm Turnbull's memoir, A Bigger Picture. As CBD revealed, a family tree style flowchart outlining how an unauthorised manuscript of the book spread around Liberal and National email circles really is the faction map for the new age.
The CBD parliamentarian of the year was undoubtedly Senator Lambie, for telling us like it is. Not just to the nation via the Senate, but to rather startled Qantas hospitality staff at Melbourne Airport. Who knows what went down, but it was enough to get the Tasmaniac a six-month ban from the airline.
Honourable mention to Craig Kelly, who topped our CBD survey of the government backbenchers who got the most media mentions, much to the surprise of relentless self publicists Andrew Bragg and Tim Wilson. Turns out nothing is so newsworthy as throwing in your lot with Clive Palmer and the United Australia Party.
Arthur Moses and Gladys Berejiklian.Credit:John Shakespeare
And then there were the wins. Max Gawn led God's own Melbourne Demons to win the AFL grand final for the first time in 57 years. And for a brief, sacred moment all was right in the world – even if the Granny had to take place in Mark McGowan's open-air prison of Western Australia. In the NRL, it was the Penrith Panthers' turn to triumph in a battle which saw the schoolmates from Mt Druitt vanquish Russell Crowe and James Packer's millionaire South Sydney Rabbitohs. Annastacia Palaszczuk's annexation from NSW paid dividends with the entire NRL competition relocating to southeast Queensland. Almost half her cabinet turned up to announce Brisbane would host the grand final.
These columnists also triumphed – almost – as finalists in the Kennedy Awards' Peter Ruehl award for most outstanding columnists. What happened on the night doesn't actually matter considering we've got the pics showing us clutching a trophy, (just not one with our names inscribed).
And for the lucky few, lockdowns proved no barricades to love. Berejiklian teamed up with QC and Canterbury Bulldogs fanatic Arthur Moses. Porter locked arms with Sydney criminal lawyer Karen Espiner. And sometimes Media Watch host Janine Perrett went steady with Australian Taxation Office Commissioner Chris Jordan.
Of course, there were moments to let off steam. A highlight in Melbourne was the 50th birthday of Sky News presenter Peta Credlin, whose enthusiastic turn on the tambourine accompanying the house band led to her sustaining a minor injury on her thigh which we dubbed the "bruised conservative rump of the Liberal Party".
More cerebral social affairs, including Helen Garner's book group where the gathering of fearsome brainiacs didn't merely read the books but read them aloud to each other. The group even tackled Shakespeare's Merchant of Venice, and no surprise our first lady of literature had the final say on casting.
Corporate Australia's answer to Eddie Everywhere this year was surely Jane Halton. No doubt the public health expert turned corporate crusader was far too busy for books having stepped up at Crown and joined the board of Naval Group. CBD can lift the lid on exacting Halton's two pet hates: an improperly cooked blue steak, which the board director has been known to – gasp! – send back. Her other pet hate: bad-tasting decaf. Relatable peeves. Well, kind of.
Season's greetings to you, La Halton, and all the other A-list, B-list and CBD-lister we have featured in this oblong this year.
And while we often seek to deflate the powerful, our aim is always to be informed, insightful and humorous. Thanks to our editors, illustrators, subs, lawyers and fellow scribes. But most of all thanks to you, our readers.
We hope we gave you some moments of levity during an unremittingly dreary 2021 news cycle. Will we come back to do it all again in the New Year? Friends, watch this space.
The Morning Edition newsletter is our guide to the day's most important and interesting stories, analysis and insights. Sign up here.
Most Viewed in National
From our partners
Source: Read Full Article