Texas, other red states leading US in wind, solar energy, report finds
video
Biden moving jobs overseas to 'satisfy environmental left': Sen. Bill Cassidy
Sen. Bill Cassidy, R-La., discusses Biden's efforts to fund overseas mining projects, ESG push leading to layoffs at an Illinois Jeep plant and the administration's energy policies.
Red states like Texas and Oklahoma, among others, are leading the United States in generating wind and solar energy, according to the findings of new report. 
Climate Central's WeatherPower Year in Review: 2022 indicated that the nation's capacity to generate carbon-free energy from solar and wind grew last year to more than 238 gigawatts (GW) – up from around 13 GWs in 2021.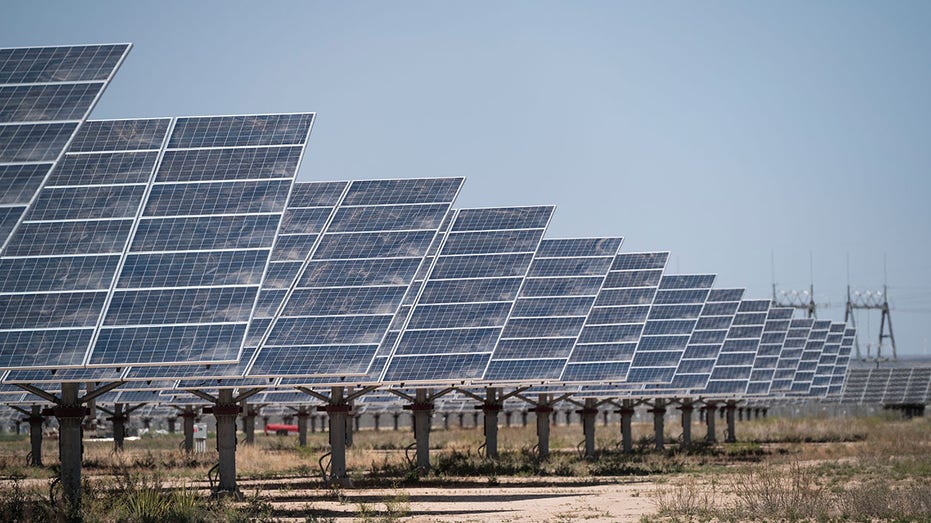 FILE: A solar farm produces electricity near Bakersfield, Texas on Saturday, April 10, 2021.  (Getty Images / Getty Images)

Last year, the U.S. generated more than 683,000 gigawatt-hours (GWh) of electricity from solar, around 27%, and wind, around 73%, combined – up 16% from 588,471 GWhs in 2021. 

While California and Florida were the largest producers of solar power, it was Texas that led the nation in both solar and wind power.  

SUBWAY ADDS EV CHARGING PARKS IN COMPETITION WITH STARBUCKS

Texas saw the largest increase in megawatts (MW) of solar capacity from 2021 to 2022, adding more than 1,660 MWs, according to the report. The Lone Star State had the largest capacity for wind power in 2022 with around 37,365 MWs. 

Iowa, Oklahoma, Kansas, Illinois, and California followed Texas in the list of the top 10 states with most wind power capacity. California, Texas, Florida, North Carolina, and Arizona, Nevada, Georgia, Virginia, New Jersey, and Massachusetts rank as the top 10 states with most solar power capacity. 

The report's authors concluded that the country's ability to produce electricity from sunlight and wind can grow fast enough to support the Biden administration's goal of net-zero carbon emissions targets by 2050. 

CLICK HERE TO GET THE FOX BUSINESS APP

It notes that electricity capacity is poised for more rapid expansion in the wake of the Inflation Reduction Act, signed into law in August 2022. 

Source: Read Full Article