Senators to introduce bipartisan rail safety bill after Ohio train derailment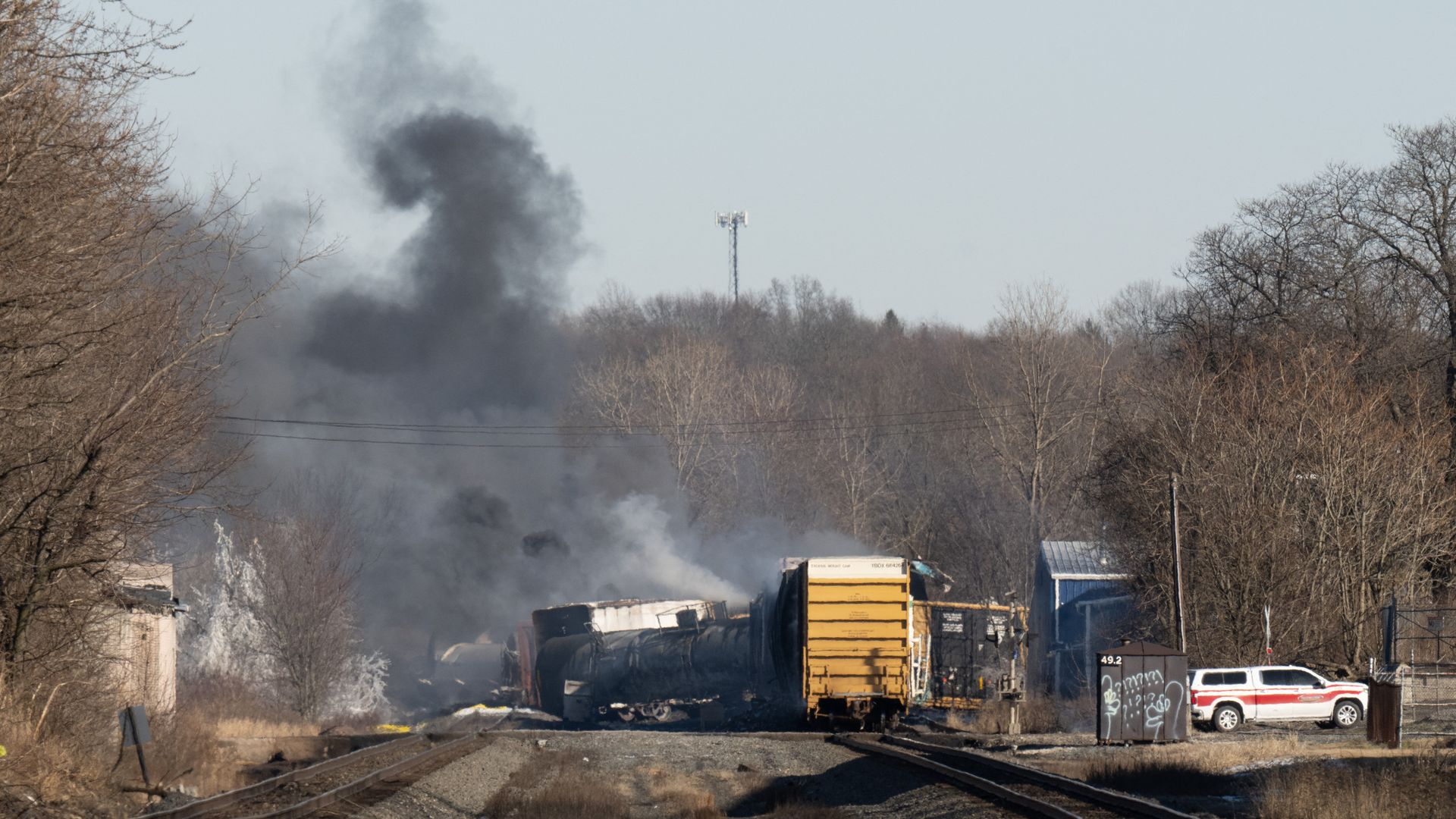 Smoke rises from a derailed cargo train in East Palestine, Ohio, on Feb. 4, 2023. Photo: Dustin Franz/AFP via Getty Images
A bipartisan group of senators will introduce legislation Wednesday aimed at promoting rail safety in the aftermath of the train derailment in East Palestine, Ohio.
Why it matters: The rare stroke of bipartisanship comes as the derailment and toxic chemical release it caused has become a partisan flashpoint, with Republicans slamming the Biden administration's response.
A group of House Democrats on Tuesday introduced a rail safety bill and House committees are planning hearings 0n the Biden administration's response to the derailment.
Driving the news: The Railway Safety Act of 2023 is set to be introduced Wednesday by Republican Sens. J.D. Vance (Ohio), Marco Rubio (Fla.), Josh Hawley (Mo.) and Democratic Sens. Sherrod Brown (Ohio), Bob Casey (Pa.) and John Fetterman (Pa.).
The bill includes new safety procedures for trains carrying hazardous materials, requires two-person crews on trains and increases the maximum fines the Department of Transportation can issue for safety violations.
The bill would create new wayside defect detectors requirements for rail carriers operating trains with hazardous materials. It also aims to bolster inspection requirements for trains carrying hazardous materials.
The legislation would expand HAZMAT training grants and calls for increased funding to the Pipeline and Hazardous Materials Safety Administration to develop stronger tank car safety features.
What they're saying: "It shouldn't take a massive railroad disaster for elected officials to put partisanship aside and work together for the people we serve – not corporations like Norfolk Southern," Brown said in a statement.
Go deeper… East Palestine's record of devastating derailments
Source: Read Full Article