American families have lost $7,400 due to inflation, rate hikes under Biden: Heritage
video
Charles Payne: Federal Reserve is waging war on inflation and Americans are paying a heavy price
 FOX Business host Charles Payne on the Fed's plans to combat inflation on 'Making Money.'
The average American family has lost the equivalent of more than a month's salary in annual income since President Biden took office as high inflation and rising interest rates eat away at their finances, according to research by the Heritage Foundation.
Experts at the conservative think tank analyzed consumer prices and interest rates and found in their latest report released Thursday that the average American household has lost the equivalent of $7,400 in annual income since Biden's inauguration Jan. 20, 2021. The income loss represents an increase of $200 from September, when the think tank's research found a $7,200 decline in annual income for the average American household dating back to the start of Biden's term. 
"Higher borrowing costs and declining real wages mean the average family is effectively $7,400 poorer today than when Biden took office," EJ Antoni, research fellow in regional economics with the Heritage Foundation's Center for Data Analysis, told FOX Business. "That is more than a month's salary for many families and the equivalent of more than a 10% pay cut for the median household income."
JEROME POWELL WARNS FED'S INFLATION FIGHT COULD SPARK POLITICAL OPPOSITION
President Biden delivers a speech on infrastructure spending at Carpenters Pittsburgh Training Center, Wednesday, March 31, 2021, in Pittsburgh. (AP Photo/Evan Vucci / AP Newsroom)

Antoni explained that of the $7,400, about $6,000 was attributable to prices rising at a much faster pace than wages. The Labor Department on Thursday released its Consumer Price Index reading for December, which found inflation fell by 0.1% month-over-month but remained at about 6.5% on annual basis — which is about three times the pre-pandemic average despite being the lowest headline number since October 2021.

The remaining $1,400 loss found by Heritage stemmed from higher borrowing costs due to the Federal Reserve raising the federal funds rate which influences the rate that Americans pay on credit cards and loans for homes and cars. The policy is intended to tamp down economic activity and lower inflation to the Fed's target rate of 2%. 

MARKETS MAY BE UNDERESTIMATING THE THREAT OF HIGH INFLATION, BLACKROCK WARNS
Federal Reserve Chairman Jerome Powell speaks during a news conference at the Federal Reserve Board building in Washington, Wednesday, July 27, 2022. (AP Photo/Manuel Balce Ceneta / AP Images)

Over the last year, Fed policymakers voted to raise interest rates seven straight times to a range of 4.25% to 4.5%. Economists expect another rate hike when Fed's rate-setting committee concludes a two-day meeting on Feb. 1.

Since 2023 began, Fed officials signaled that more rate hikes are on the way and that they plan to hold rates at elevated levels until inflation slows. Federal Reserve Chair Jerome Powell explained in remarks Tuesday that "restoring price stability when inflation is high can require measures that are not popular in the short term as we raise rates to slow the economy."

Unfortunately for Americans looking to buy a home, the Fed's rate hikes have led the interest rate for the benchmark 30-year fixed mortgage to rise by more than three percentage points in the last year from 3.22% to 6.48% as of last week. That, in turn, has caused applications to decline as it gets harder for Americans to afford the monthly bill that comes with homeownership. 

Antoni attributed the economic headwinds to the fiscal policies adopted by the Biden administration over the last two years. "The astronomical levels of spending, borrowing, and printing of money over the last two years have devalued the dollar and levied a hidden but heavy inflation tax on the American people."

US JOB GROWTH COOLS SLIGHTLY IN DECEMBER AS ECONOMY ADDS 223,000 NEW POSITIONS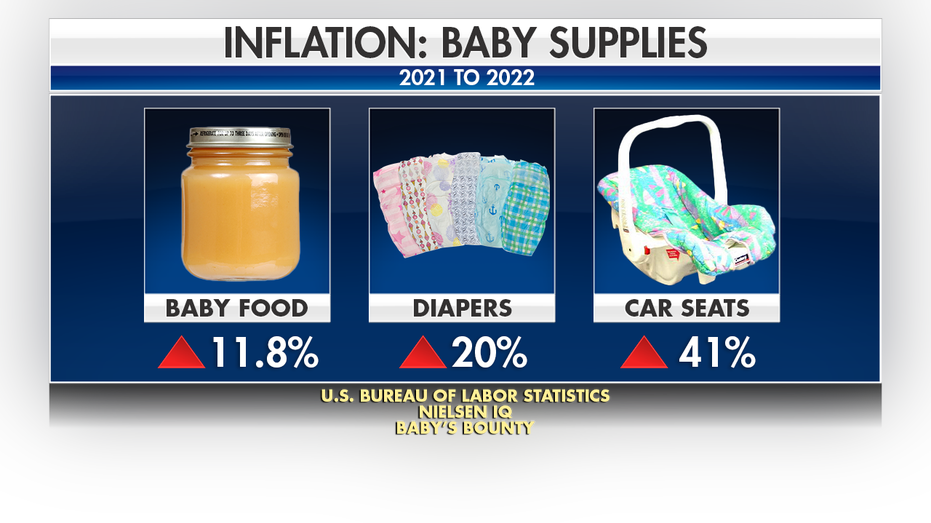 Inflation is hitting all sorts of baby supplies, such as diapers, which have seen a cost increase of about 20% since last year, according to Nielsen IQ. (FOX News/Ashley Soriano / Fox News)

Federal spending has soared in recent years, and Congress is once again approaching its statutory debt limit, which has swelled to nearly $31.4 trillion. The debt limit will likely have to be raised by the middle of the year to avoid a default on the national debt if lawmakers end up at an impasse over partisan priorities.

While their elected representatives in D.C. struggle to pay the nation's bills, Americans are facing a similar challenge as their household budgets are stretched thin due to inflation and higher borrowing costs. Those financial challenges led more than one-third of households to rely on credit cards or loans to buy necessities in December. Average credit card interest rates reached a new record high of 19.14% APR compared to a Bankrate.com database.

CLICK HERE TO READ MORE ON FOX BUSINESS

"Americans are increasingly relying on credit cards to make it from paycheck to paycheck, resulting in higher levels of indebtedness. Rising credit card balances in an era of rising interest rates is a path to insolvency," Antoni told FOX Business. "The average interest rate on credit cards is now around 20 percent while half of Americans cannot pay off their credit cards each month, and balances are growing at a 16 percent annual rate."

Source: Read Full Article