After airline flight chaos, lawmakers look to fix FAA's flawed NOTAMS computer system
video
Mike Boyd on FAA issues: We are putting lives at risk
Aviation expert Mike Boyd slams the FAA and transportation authorities' response to a recent outage on 'The Evening Edit.'
After a computer outage in a critical Federal Aviation Administration (FAA) computer system led to the first nationwide ground stop since the September 11th terror attacks and wreaked havoc on flight schedules around the country earlier this month, the House is poised to take up a bipartisan bill to reform the system.
The FAA's Notice to Air Missions (NOTAM) system crashed on Wednesday, January 11th, and disrupted 11,000 flights with cancelations and delays around the U.S. due to the outage, which was reportedly caused by a mistake that transpired during routine system maintenance. The NOTAM system is a vital tool that alerts pilots and other personnel about abnormal airborne issues and airport delays that arise and may affect flight plans or pose a safety hazard, although the FAA described the system as "failing vintage hardware" in its latest budget request.
Lawmakers in the House of Representatives are expected to get a chance to vote this week on a bipartisan bill that would seek to fix the NOTAM system. Introduced by Rep. Pete Stauber (R-Minn.) and cosponsored by Rep. Mark DeSaulnier (D-Calif.), the NOTAM Improvement Act would establish a bipartisan task force to review methods for presenting NOTAMs to pilots in addition to relevant regulations and policies. After the task force completes its review, it would provide recommendations on best practices that optimize pilots' ability to review and retain relevant information.
BIDEN'S PICK TO HEAD FAA UNDER FIRE ALONG WITH ADMINISTRATION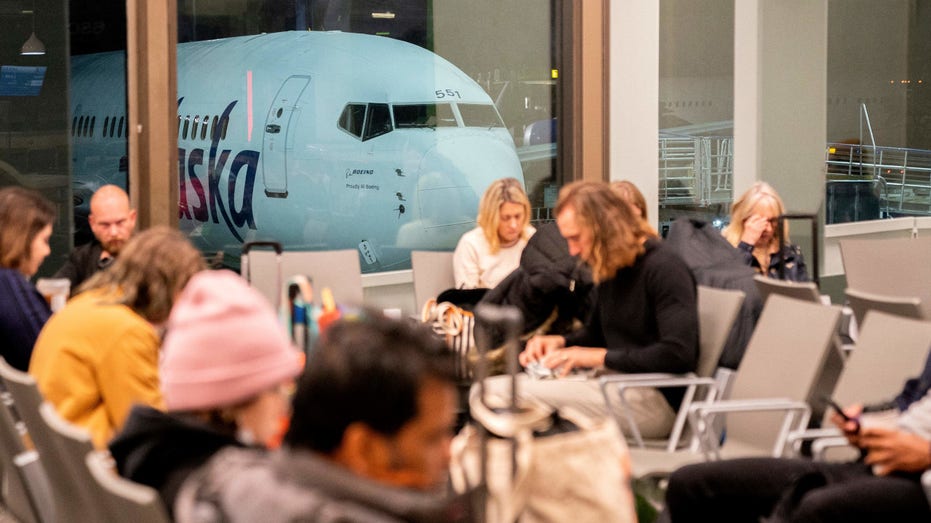 Travelers wait in the terminal as an Alaska Airlines plane sits at a gate at Los Angeles International Airport in Los Angeles, on January 11, 2023. – The US Federal Aviation Authority ordered a temporary halt to all domestic flight departures Wednesd (STEFANI REYNOLDS/AFP via Getty Images / Getty Images)

The task force would be composed of members appointed by the FAA administrator including representatives of air carriers, airports, airline pilot unions, unions representing FAA air traffic controllers and information specialists, general and business aviation, along with experts on aviation safety, human factors, and computer systems.

Stauber said in a press release that the outage shows the "urgent need for updates and improvements" to the NOTAM system to "keep air traffic moving safely in our skies." 

FAA OUTAGE FALLOUT: HUNDREDS OF FLIGHTS DELAYED, CANCELED DAY AFTER MELTDOWN
Steve Gasser of Chicago looks at flight information screen at Chicago's Midway Airport that reflects the flight delays stemming from a computer outage at the Federal Aviation Administration that brought flights to a standstill across the U.S. Wednesd (AP Photo/Charles Rex Arbogast / AP Newsroom)

"In my time on the House Transportation and Infrastructure Committee, I have heard from many pilots who have expressed concerns over the NOTAM system which is why yesterday's news came as no surprise," Stauber added. "We must quickly pass my legislation to figure out how to make the NOTAM system work better for pilots and passengers alike, and ensure greater oversight of the Federal Aviation Administration going forward to avoid future problems."

Previous versions of the NOTAM Improvement Act passed the House on bipartisan voice votes in both the 116th and 117th Congresses, but neither advanced out of the Senate to reach the president's desk. 

BIDEN GIVES BUTTIGIEG VOTE OF CONFIDENCE AFTER FAA SYSTEM MELTDOWN DISRUPTS TRAVEL NATIONWIDE
Passengers wait to depart Chicago's Midway Airport as flight delays stemming from a computer outage at the Federal Aviation Administration has brought flights to a standstill across the U.S. Wednesday, Jan. 11, 2023, in Chicago.  (AP Photo/Charles Rex Arbogast / AP Newsroom)

The FAA's initial review of the outage found that contractors "unintentionally deleted files" while they were working "to correct synchronization between the live primary database and a backup database." That, in turn, resulted in the disruption of the NOTAM system and the FAA said it has "found no evidence of a cyber-attack or malicious intent."

In the wake of the outage, the FAA has implemented safeguards such as a staggered updating process to isolate issues in one database before they can spread to the other database. The agency is also requiring two people to be present when routine maintenance is performed. 

GET FOX BUSINESS ON THE GO BY CLICKING HERE

In the future, Reuters reported that sources have said the FAA plans to convert the NOTAM system to a cloud-based virtual platform. 

A group of more than 120 lawmakers told the FAA the outage was "completely unacceptable" and demanded an explanation for how it will avoid such incidents in the future. Acting FAA Administrator Billy Nolen briefed congressional staffers on the matter on Friday, and FAA officials are planning to hold a briefing for House lawmakers this week.

NOTAMS stood for Notice to Airmen until the Biden administration changed it to Notice to Air Missions in December 2021.

Reuters contributed to this report.

Source: Read Full Article