US trade deficit hit record in 2022
video
US cut China out of chip trade, forcing competition to buy American: Luke Rahbari
Carnivore Trading CEO Dutch Masters and Equity Armor Investments CEO Luke Rahbari discuss which chipmakers investors should be buying and if crypto will rebound in 2023 on 'The Claman Countdown.'
U.S. imports rose in December as demand for consumer goods and autos picked up, partially offsetting a weakening in global trade late last year and widening the U.S. trade deficit by 10.5%.
The trade deficit in goods and services was a seasonally adjusted $67.4 billion in December, the Commerce Department said Tuesday, up from a revised $61 billion in November.
The U.S. trade deficit for all of 2022 rose 12.2% to $948.1 billion, the widest gap on record, as the U.S. continued to depend heavily on imports from other countries to meet domestic demand. Exports also rose last year as global demand for U.S.-made products picked up. A U.S. dollar rally last year drove up the cost of U.S. goods and helped widen the annual deficit.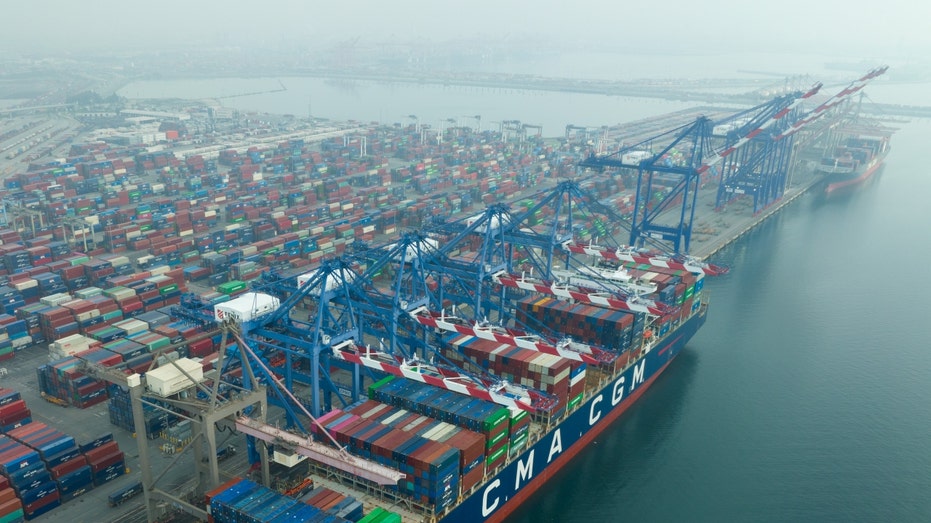 SAN PEDRO, CALIFORNIA – JANUARY 19: Aerial view of containers and cargo ships at the Port of Los Angeles on January 19, 2022 in San Pedro, California.  ((Photo by Qian Weizhong/VCG via Getty Images) / Getty Images)

U.S. imports rose 1.3% in December from November and exports decreased 0.9% during the same period. Overall imports of goods and services fell in the final two quarters of the year, the department said, closing out a year in which high inflation, the Ukraine war and supply imbalances weighed on global demand.

Demand for exported goods like industrial supplies and consumer goods made by the world's largest economy waned in December, and Americans bought more foreign-made products such as cellphones and vehicles. The trade figures aren't adjusted for inflation.

International commerce weakened across the globe at the end of the year. In China, an export boom that propelled the world's second-largest economy through much of the pandemic has sputtered as inflation and rising interest rates squeeze spending in the U.S. and Europe.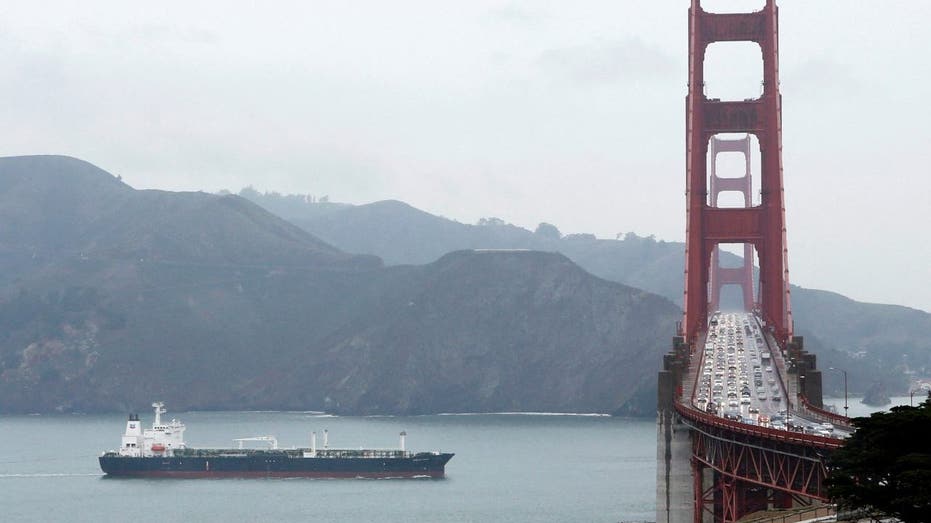 An oil tanker passes underneath the Golden Gate Bridge in San Francisco, California, February 26, 2014. REUTERS/Beck Diefenbach (Reuters Photos)

China's exports to the rest of the world fell 9.9% in December compared with a year earlier, a steeper decline than the 8.7% drop recorded in November, according to Chinese customs data, reversing a long spell of surging exports as Western consumers snapped up electronics and other consumer goods while working from home during the pandemic.

RUSSIA BOOSTS CHINA TRADE TO COUNTER WESTERN SANCTIONS

In Europe, trade fell sharply at the end of 2022, reflecting weakening domestic and overseas demand. German imports of goods dropped 6.1% in December from the prior month, while exports fell by 6.3%. In France, imports were 1.9% lower in the fourth quarter compared with the third, while exports were down 0.3%.

Trade trends reflect a normalization of commerce as the impact of the pandemic fades, Gregory Daco, chief economist, Ernst & Young LLP, said. "Both supply and demand are rebalancing after a massive shock," he said.

Global demand for U.S. exports has eased, he said, adding imports are likely to come "under increased pressure in an environment where consumer spending and business investment growth are moderating," he added.

Recent U.S. economic figures have been mixed as the Federal Reserve continues raising interest rates to cool the economy and bring down inflation. Consumer spending weakened late last year and manufacturing activity declined. But job growth accelerated in January and the economy grew at a solid 2.9% annual rate last quarter.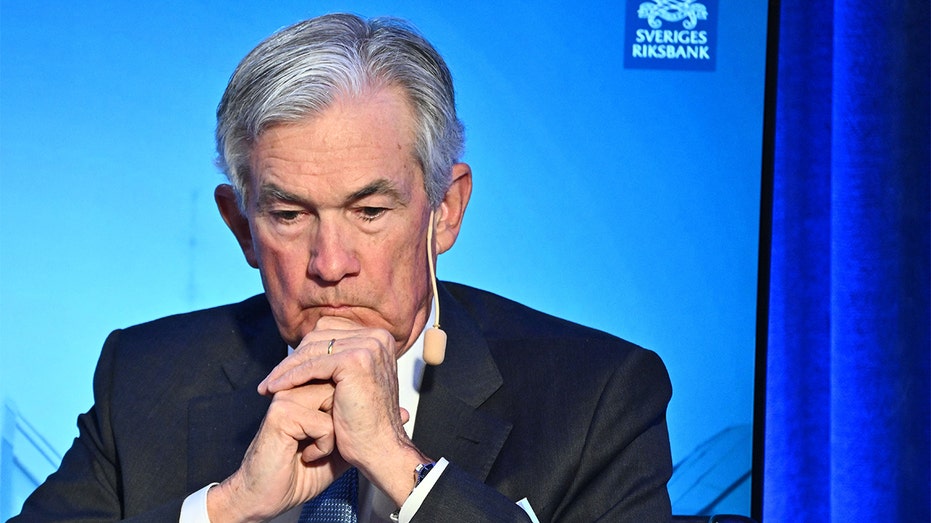 Jerome Powell, Chair of the Board of Governors of the Federal Reserve, attends a Central Bank Symposium at the Grand Hotel in Stockholm, Sweden on Jan. 10, 2023. – Senior central bank officials and prominent academics participated in four panels that (CLAUDIO BRESCIANI/TT News Agency/AFP via Getty Images / Getty Images)

The economic outlook has improved recently in other parts of the world. China eased Covid-19 restrictions and largely reopened its economy. And Europe showed signs of stabilizing after the easing energy shortage threats related to the Ukraine war. The global economy is expected to grow this year at a faster pace than previously expected, the International Monetary Fund said last week.

BANK OF AMERICA 'STILL FORECASTING' 2023 RECESSION: FED ACTION 'NOT ENOUGH,' EXEC WARNS

Chinese exports for 2022 were 7% higher than a year earlier, at $3.6 trillion, though that marked a slowdown from a double-digit percentage gain in 2021. That has reinforced concerns that China will no longer be able to count on robust trade to power its growth in 2023.

Fading Western demand and China's zero-tolerance approach to Covid-19 outbreaks through last year took their toll on overseas sales by other Asian export powerhouses last year, too. South Korea's exports in December were 9.6% lower than a year earlier, while exports from Taiwan were down 3%, according to data provider CEIC.

Japan's exports in December grew 11.5%, aided by a steep fall in the yen against the dollar and other major currencies. Still, that was slower than the near-20% annual growth recorded in November, and sharply below annual growth of close to 30% recorded in September.

Supply-chain snarls related to the pandemic helped push U.S. inflation to a four-decade high last year, before price increases slowed as disruptions eased and the Fed raised interest rates. Business inventories fluctuated as companies slowed orders after building stockpiles aggressively in 2021, weighing on economic growth for part of last year.

Exports of U.S. liquefied natural gas boomed after Russia's invasion of Ukraine led to sanctions on its energy products. Americans flocked to Europe as international travel reopened, taking advantage of a strong dollar.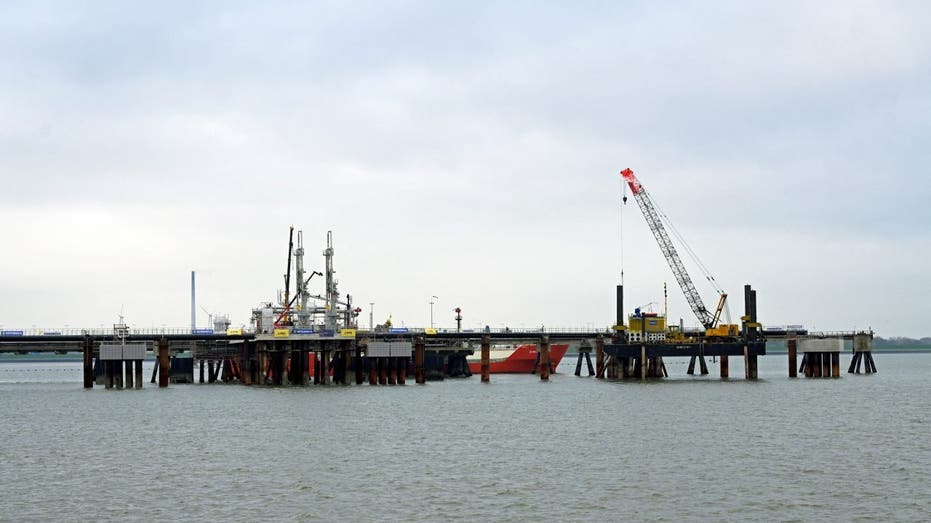 General view of the new floating LNG gas terminal, which allows Germany to import LNG via ship from other countries, especially the United States, in the harbour in Wilhelmshaven, Germany, November 15, 2022. REUTERS/Fabian Bimmer/File Photo (AP Newsroom)

Growth in U.S. imports slowed last year compared with 2021 as consumers spent less on goods such as home-fitness equipment and furniture and shifted spending to services. Spending on services rose 4.5% last year, while spending on goods declined 0.4%, according to the Commerce Department.

Households spent down savings that were built up earlier in the pandemic. Borrowing costs rose rapidly as interest rates climbed.

Global shipping demand has slowed since November after retailers amassed excess inventory, said Anthony Fullbrook, the U.S. head of Taiwanese cargo and freight company OEC Group.

"We're still dealing with oversupply, over-inventory from Covid," he said. Mr. Fullbrook said the sharp slowdown in the U.S. housing market has reduced demand for shipments of furniture, kitchenware and lighting. "Globally, everyone is suffering from excess supply," he said.

CLICK HERE TO GET THE FOX BUSINESS APP

A wider trade deficit is consistent with a U.S. economy growing faster than other parts of the world, as people with higher incomes in the U.S. buy more imported goods.

"The U.S. consumer has a very steady pulse, they're looking healthy," Visa Inc. Chief Financial Officer Vasant Prabhu said. "Under the surface there have been changes, shifts from buying products to services and from buying things to doing things," he said.

Anthony DeBarros and Paul Hannon contributed to this article.

Source: Read Full Article