US job growth surges again in February as economy adds 311,000 new positions
video
Wall Street anticipating a selloff triggered by the February jobs report: Scott Bauer
Prosper Trading Academy CEO Scott Bauer and Seaport Securities founder Teddy Weisberg discuss how investors should be playing the big bank sell-off ahead of the February jobs report on 'The Claman Countdown.'
U.S. hiring grew in February by more than expected as the labor market remained surprisingly resilient in the face of rising interest rates and higher inflation.
Employers added 311,000 jobs in February, the Labor Department said in its monthly payroll report released Friday, easily topping the 205,000 jobs forecast by Refinitiv economists. It marked the second straight month of hotter-than-expected job data, after the economy added 504,000 positions in January – a total that was revised down from the initially reported 517,000.
The unemployment rate, meanwhile, unexpectedly ticked higher to 3.6% as the labor force grew.
While monthly jobs data is always important, the Federal Reserve is closely watching this particular report for signs the labor market is finally softening and that the blowout figures in January were an anomaly as policymakers try to cool the inflation with higher interest rates. 
There was some welcoming news on that front, with monthly wages rising at the slowest pace in a year. Average hourly earnings grew 4.6% from a year ago, below the estimate for 4.8%. The monthly increase of 0.2% also was below the 0.4% estimate.
MAJORITY OF WORKERS REGRET QUITTING DURING THE GREAT RESIGNATION
"No doubt today's data is a reminder that the labor market remains tight, but some investors may be able to squint and see signs of slowing," said Mike Loewengart, head of model portfolio construction at Morgan Stanley Global Investment Office. "While payrolls remained hot, unemployment ticked up and wage growth was the slowest it has been since before the Fed started hiking rates."
The latest hiring figures underscore the delicate challenge facing the Fed, which could ultimately have no choice but to continue hiking rates. Chairman Jerome Powell has lauded the slow but steady decline in inflation, but told reporters at the conclusion of the Fed's two-day meeting on Wednesday that the labor market remains "extremely tight" and is still "out of balance."
The central bank has already approved eight straight increases, including four back-to-back 75-basis-point hikes, raising the federal funds rate to a range of 4.5% to 4.75%, the highest since 2007. Powell indicated that policymakers expect to deliver a "couple" more rate hikes this year and signaled that rates could remain elevated for "some time."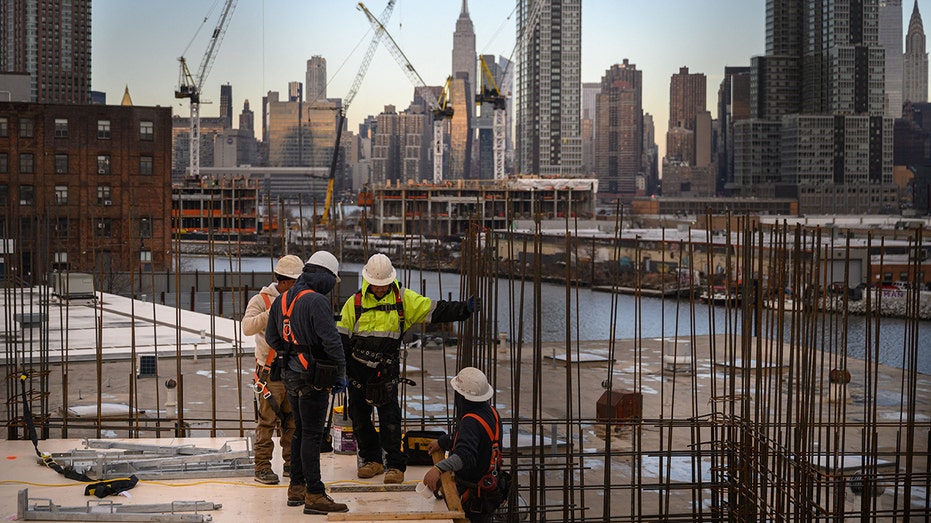 A general view shows construction workers standing before the Manhattan skyline and Empire State Building, in Brooklyn on January 24, 2023. ((Photo by ED JONES/AFP via Getty Images) / Getty Images)

Hiking interest rates tends to create higher rates on consumer and business loans, which slows the economy by forcing employers to cut back on spending. 

The data comes on the heels of a series of notable layoffs, particularly within the tech industry: Amazon, Apple, Meta, Lyft and Twitter are among the companies either implementing hiring freezes or letting workers go. That could soon bleed into the broader labor market; Powell has made it clear that policymakers anticipate job growth will slow and unemployment could climb as they raise interest rates higher, but he has argued that an alternative where prices soar unchecked is worse.

CLICK HERE TO READ MORE ON FOX BUSINESS

This is a developing story. Please check back for updates. 

Source: Read Full Article