Starbucks catches break as judge vacates nationwide ban on firing union workers
video
Starbucks stock drops after 'jumping the gun' on employees' vax status: Retail expert
Strategic Resource Group managing director Burt Flickinger on which businesses are struggling with pandemic exit strategies.
In a lucky break for Starbucks, the federal judge who issued a nationwide injunction prohibiting the coffee chain from firing union-friendly workers has vacated his decision, citing "certain errors" in his previous ruling.
On Thursday, U.S. District Judge Mark Goldsmith rejected the National Labor Relations Boards' (NLRB) request for a nationwide cease-and-desist order prohibiting Starbucks from discharging employees that participate in protected union activities. The judge found that NLRB failed to show "that Starbucks has implemented a corporate-wide anti-union policy such that a cease-and-desist order should apply to every Starbucks location in the country." 
Goldsmith issued a new injunction that specifically prohibits the Starbucks store in Ann Arbor, Mich., from firing employees who attempt to unionize. It was an abrupt reversal from the judge's Feb. 17 order, which implemented a nationwide injunction against Starbucks.
Ticker
Security
Last
Change
Change %
SBUX
STARBUCKS CORP.
101.60
-1.91
-1.85%
JUDGE BLOCKS STARBUCKS FROM FIRING WORKERS ATTEMPTING TO UNIONIZE
File photo of the mermaid logo on a sign outside the Starbucks coffee shop, Monday, March 14, 2022, in Londonderry, N.H. (AP Photo/Charles Krupa / AP Newsroom)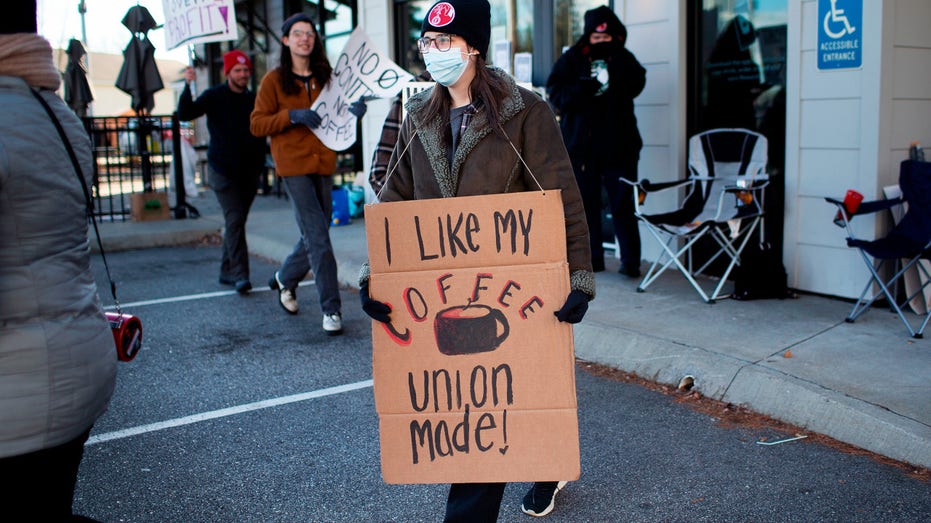 Starbucks employees went on strike in November on the company's annual Red Cup Day.  (Derek Davis/Portland Press Herald via Getty Images / Getty Images)

STARBUCKS PUTTING OUT OLIVE OIL-INFUSED COFFEE DRINKS

That order contained "certain errors" which Goldsmith addressed in an opinion accompanying his new, more limited injunction. 

"The record supports a finding of reasonable cause as to a violation of the [National Labor Relations Act] at the Starbucks location on Main Street in Ann Arbor, and just and proper injunctive relief is limited to that location," Goldsmith wrote. 

STARBUCKS FRAPPUCCINO BOTTLES RECALLED OVER FOREIGN OBJECT
Starbucks employees and supporters react as votes are read during a union-election watch party on Thursday, Dec. 9, 2021, in Buffalo, New York. (AP Photo/Joshua Bessex, File / AP Images)

The new order retained Goldsmith's earlier requirement that Starbucks reinstate Hannah Whitbeck, a shift supervisor who alleges she was fired by the Ann Arbor store for engaging in protected unionizing activities. 

CLICK HERE TO GET THE FOX BUSINESS APP

Starbucks maintains that Whitbeck was fired for violating the company's partner safety policies and denies she was persecuted for union organizing. The company also argues the NLRB is overreaching in this case, noting that Whitbeck was proactively offered, and accepted, interim reinstatement before the court issued injunctive relief. 

"We are pleased that the Court rejected the National Labor Relations Board's overreaching and inappropriate request for a nationwide cease-and-desist order as we continue to pursue a full legal review of the merits of the case," Starbucks said in a statement to Fox Business.  

Source: Read Full Article