Job openings eased in October in early sign of a slowdown
video
Jobs report is very difficult to forecast: Chris Low
FHN Financial chief economist takes a closer look at consumer confidence falling for the second straight month on 'Making Money.'
U.S. job openings decline in October after unexpectedly surging the previous month, an early sign that the still-tight labor market is starting to lose some steam.
The Labor Department said Tuesday that there were 10.3 million job openings in October – a sharply decline from the previous month's revised reading of 10.7 million.
The number of available jobs has topped 10 million for 12 consecutive months; before the pandemic began in February 2020, the highest on record was 7.7 million.
The Federal Reserve closely watches these figures as it tries to gauge labor market tightness; the decline in openings could provide some relief for policymakers as they try to slow the economy and cool painfully high inflation. 
THE FED'S WAR ON INFLATION COULD COST 1M JOBS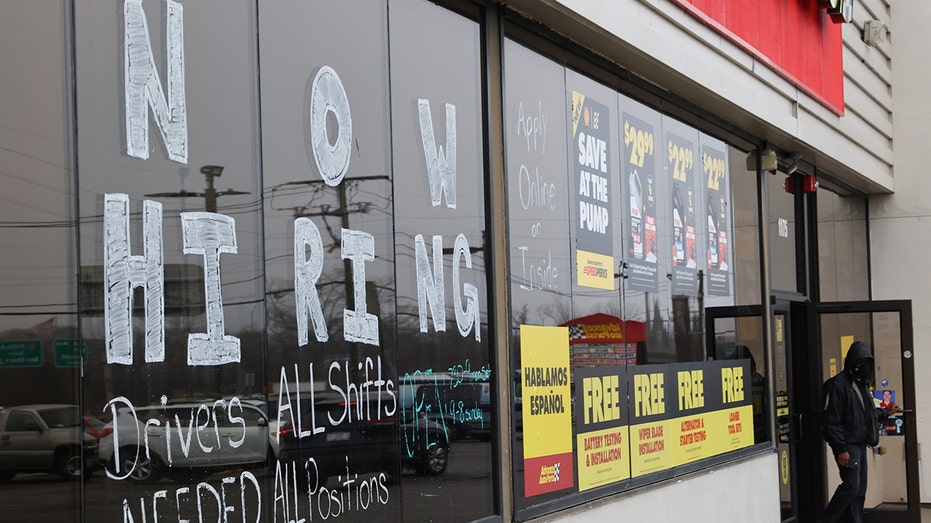 Bay Shore, N.Y.: A large "Now Hiring" advertisement posted on the windows of the Advance Auto Parts store in Bay Shore, New York on March 24, 2022. ((Photo by Steve Pfost/Newsday RM via Getty Images) / Getty Images)

"The number of job openings in October fell slightly from the previous month but the labor market is still too tight for central bankers," said Jeffrey Roach, chief economist at LPL Financial. "Elevated job openings during a time of an economic slowdown implies that the labor market may remain tight for quite some time."

The Fed has responded to the inflation crisis and the extremely tight labor market by raising interest rates at the fastest pace in decades. Officials approved six straight rate hikes this year, lifting the benchmark federal funds rate well into restrictive territory, and have shown no signs of pausing.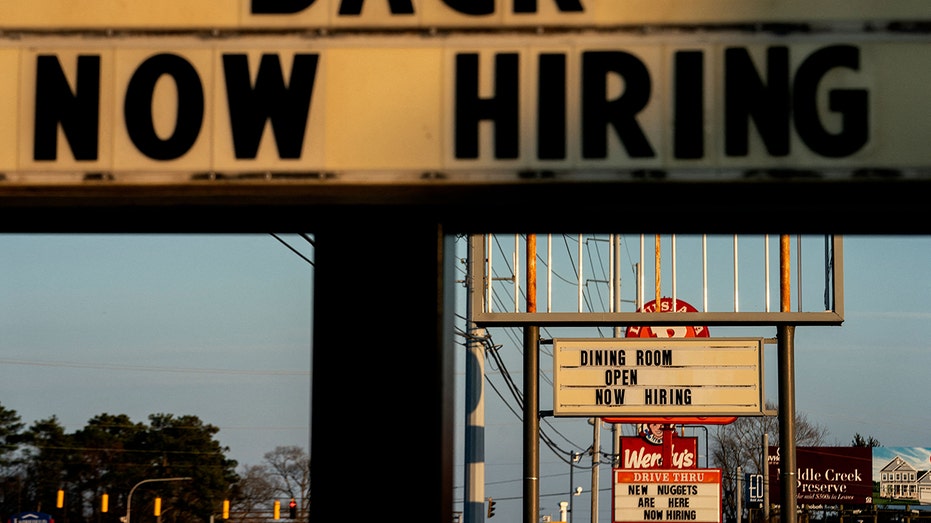 Now Hiring signs are displayed in front of restaurants in Rehoboth Beach, Delaware, on March 19, 2022.  ((Photo by STEFANI REYNOLDS/AFP via Getty Images) / Getty Images)

CLICK HERE TO READ MORE ON FOX BUSINESS

The data precedes the release of the more closely watched November jobs report on Friday morning, which is expected to show that employers hired 200,000 workers following a gain of 261,000 in October. The unemployment rate is expected to hold steady at 3.7%.

Source: Read Full Article