Ethereum Falls to a Recent Low
Ethereum's price has reached a new recent low today, down to $448 while remaining very close to that level at the time of writing.
Volumes are slightly up to $1.7 billion in the past 24 hours, but the currency keeps falling more than any of the top ones.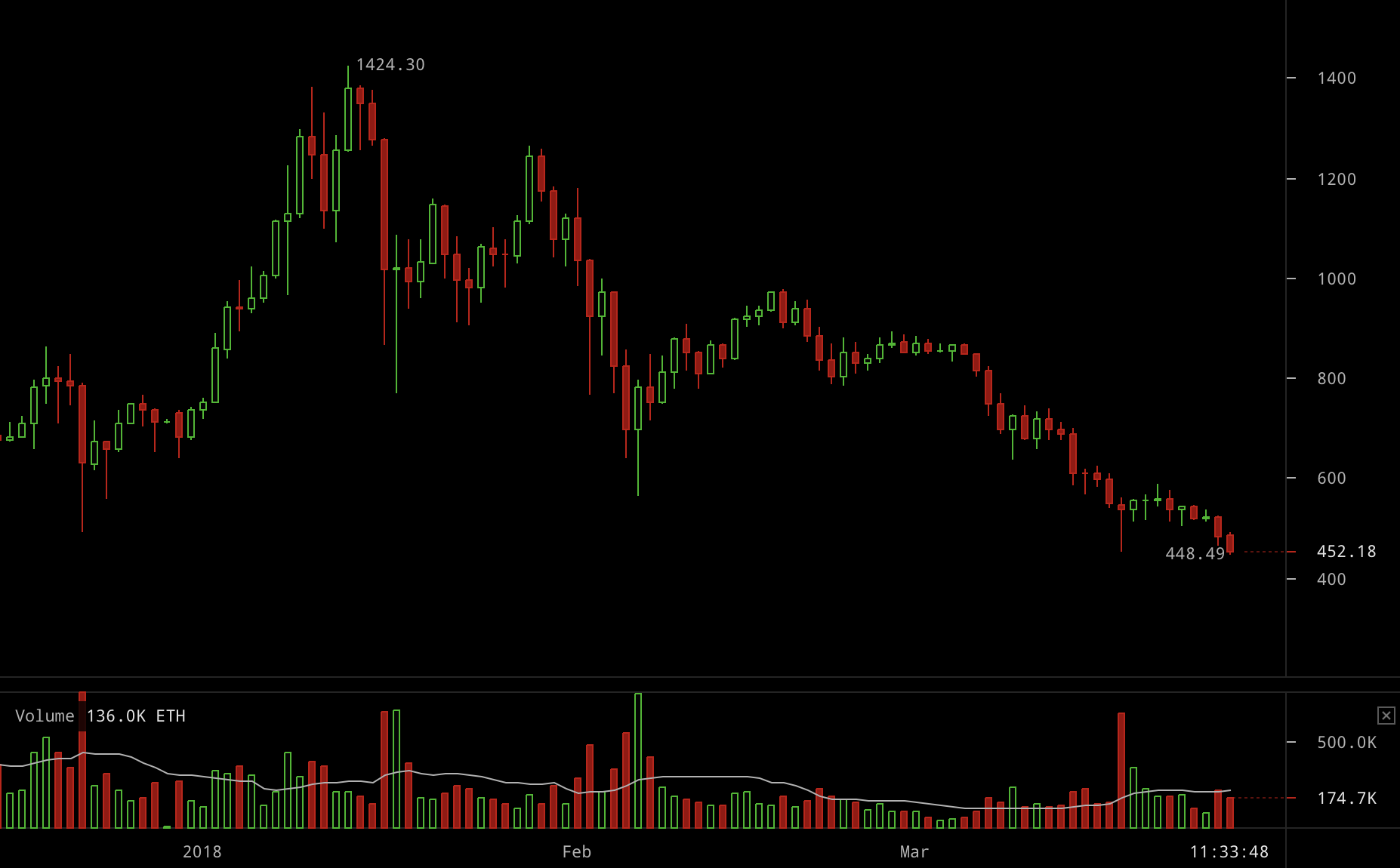 We haven't seen that sort of chart since ethereum's May drop in 2017 after it reached a brief high of $420, a high eth now stands very close to.
There is therefore a general level of fear, or what we would call despair, as traders wonder whether this will now halve, and whether it will rise again.
Unlike Charlie Lee, we do not have a crystal ball. But the last time this sort of thing happened, whereby price nears below a previous high, was back in 2015 or so for bitcoin.
Then, it happened far, far more slowly, with the movement this time appearing a lot more accelerated, similar to eth's May crash.
If we go back to bitcoin, after it had reached a high of $1,000 and following the calamity of MT Gox in 2014, everyone liked to say price had never fallen below its previous high, which for btc then was $266.
When it did so fall, everyone stopped talking about price and started frowning upon those that did talk of it.
What that probably means is that those who wanted to leave had left at that point, with only the true believers remaining and the long term investors.
For them, it wasn't a question of what the price was, but a question of what cryptos can do. An atmosphere that currently is fairly dominant in Bitcoin Cash out of all places.
They recently had a big conference, and as much as we thought it would be a nice way to fall asleep during bed-time, watching it managed to keep us up.
Which with hindsight makes one wonder whether perhaps we did lose our way a bit. Perhaps the focus on price had become too central to all things. Just as arguably all this Wall Street talk, and futures, and all the rest.
Now, a new wave of cryptonians can learn to ignore the price too and perhaps realize that their time-horizon might be far too narrow.
Because the music will probably play again, but for now it's bear party, where they are getting far too drunk, and their Cotton Eye Joe is playing far too loud.
While the "believers" quietly sit in their home, doing their studies and homework, trying to build the future and trying to ignore the bear noise.
As, at the end of it, one eth is one eth. Not $400, not $40,000, but one out of one hundred million.
Source: Read Full Article