Coinbase Trends On Twitter For Downtime During Bitcoin Break Above $40K
Bitcoin momentarily blasted above $40,000 today, doubling its previous peak set back in 2017. A huge rejection took place shortly after the level was overcome, prompting a $4,000 drop near instantly.
But as eager buyers stepped in to "buy the dip" on Coinbase, they were met with frustration and disrupted services. And because Bitcoin is trending on Twitter, Coinbase is now also but for all the wrong reasons. Here's why Coinbase needs to shape up its act before the bull run enters the next phase.
Bitcoin Bull Run Then And Now: 2017 Versus 2020
Coinbase was the poster child of the 2017 bull market. The iOS app was trending on the Apple App Store for iPhone as the top way many investors were buying Bitcoin back in 2017.
With the cryptocurrency market reentering a bullish cycle, Bitcoin today set a high that is double the 2017 peak that put both the asset and the exchange on the map initially.
Related Reading | Bullish For Bitcoin: US Inflation Expectation Breaks Out From Decade Long Downtrend
Now the two are major brands in finance and are beginning to mature. Bitcoin is suddenly the investment focus of the ultra-wealthy, who are seeking to protect that wealth from the impact of inflation. Their money has pushed the cryptocurrency to recent highs and did so incredibly quickly.
The asset is now outperforming its 2017 rally by a large margin and is the second most powerful rally in history. It has resulted in dips being bought up much faster because institutions know they are in competition with others, and retail investors are fighting for their share too.
Which is why there's so much outrage on Twitter regarding outages on Coinbase experienced today during Bitcoin's pump.
Bitcoin shattered $40,000 briefly causing Coinbase to struggle | Source: BTCUSD on TradingView.com
Coinbase Can't Keep Up With Crypto Volatility, Trends on Twitter
Bitcoin has grinded its way up steadily from $30,000 to $40,000 in just seven days to start 2021. The move culminated today with a strong push above $40,000, but it was rejected harshly after setting a peak of $40,412 on Coinbase.
Unless orders were already placed, however, few were able to actually buy or sell any BTC during the frenzy on Coinbase. Users report all kinds of issues, from server outages, an inability to log in, withdrawals not working properly, and much more.
Related Reading | Analyst: Bitcoin Parabolic Trend Is "Close To A Breakdown"
The issues were just as frustrating on the Coinbase Pro platform which is designed for institutional investors. Users were so upset about it all, they took to Twitter to vent.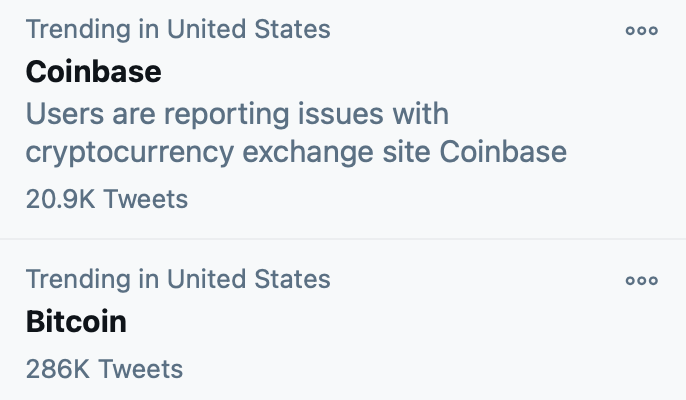 Bitcoin and Coinbase were both trending in the US on Twitter | Source: Twitter
Bitcoin was trending on Twitter at the same time due to the strength of the record-setting move. Coinbase, however, was trending for its lack of performance during the high-volume blitzkrieg.
Coinbase continues to be the "go-to" for institutions, and are planning on launching an IPO this year. If they can't get the most basic functionality of their platform to work regularly and during when it matters the most, they could squander what positive reputation they have with the public eye during this current crypto bull run.
Source: Read Full Article