Hopes of sealing India-UK trade deal in Oct may be fading
The hope that the ongoing 13th round of negotiations towards an India-UK free trade agreement (FTA) could conclude with a deal for British Prime Minister Rishi Sunak to sign off in time for the India versus England World Cup cricket clash in Lucknow on October 29 seem to be fading, according to a UK media report on Wednesday.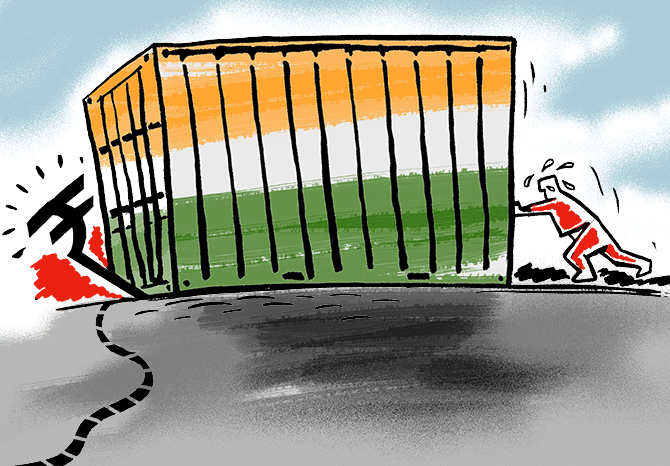 The Financial Times quoted officials briefed on the negotiations to say that a lack of movement towards opening up of the Indian market to British professional services in the field of law and accountancy is among the factors for the slowdown.
So much so that cricket fan Sunak's proposed return visit to India after an inaugural visit as UK Prime Minister to New Delhi for the G20 Summit last month is looking "very, very unlikely to happen".
"The discussions are not where we want them to be," the newspaper quoted a British official familiar with the talks as saying.
"The prime minister has said he will not sign a trade deal on arbitrary deadlines. He's going to do the right thing for the country," said another UK official.
During his visit to India in September, Sunak told reporters that he "won't rush things".
"I held warm and productive discussions with Prime Minister Modi on strengthening our relationship in defence, technology and a free trade deal between our nations," he told the House of Commons in his update following the visit.
Speculation around his second visit to the country close on the heels of the first one has been rife for weeks, with Indian officials indicating that the prospect of such a trip was quite high.
However, with general elections expected in both countries next year, the window for an FTA sign off seems to be shrinking.
Answering queries last month from the Parliament's Business and Trade Committee, which scrutinises the work of her department, UK Business and Trade Secretary Kemi Badenoch had admitted that both sides were "very close" to an agreement but media speculation around the UK PM's return visit to sign off on it on the margins of the World Cup were "very optimistic briefing for newspapers".
"We are very close. It is possible, but I wouldn't be setting that sort of deadline. We will finish when we finish," she said, in response to a question about the October 29 cricket match deadline.
Referencing former British prime minister Boris Johnson previously setting a Diwali 2022 deadline for the FTA, Badenoch reiterated the Sunak-led government's approach of not setting out any timelines.
"We had the same thing last year, where they said we're going to have a deal by Diwali.
"Once you set a date, you create problems on your own side.
"We have always been very, very specific that it's about the deal, not the day. And, we will get there when we have a deal that is mutually beneficial for India and for the UK.
"We've done quite a lot, so it is close," said the Cabinet minister.
"It's the Pareto principle, that the few bits left are always the toughest bits," she added.
The Pareto principle, also known as the 80/20 principle, is named after Italian economist Vilfredo Pareto and is a phenomenon that states that roughly 80 per cent of outcomes come from 20 per cent of causes.
According to official UK government figures, bilateral trade with India was worth an estimated GBP 36 billion in 2022 – a figure expected to be significantly boosted with an FTA which has undergone 12 negotiating rounds since January last year.
Source: Read Full Article