Discount vs traditional brokers: Cost dynamics, challenges ahead
Discount brokers have sustained the rise of the equity cult and gained market share. Now the old guard looks to strike back.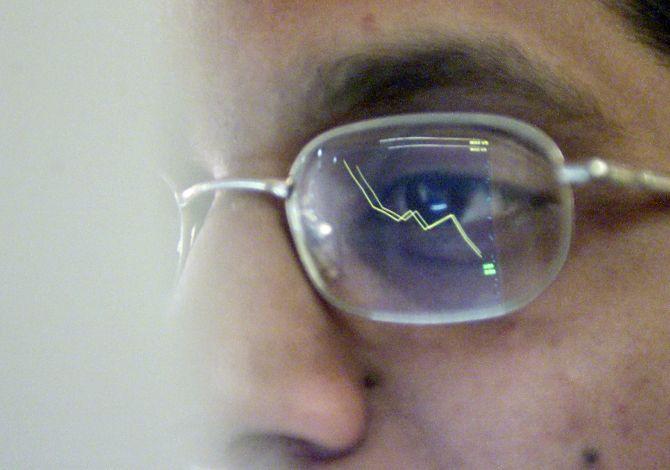 The equity cult has grown at a rapid pace in India in the last few years, with retail investors latching on to the stock markets like never before.
At 126.6 million, the number of dematerialised (demat) accounts, where investors hold their securi­ties in electronic form for trading purposes, are at record high levels.
The growth rate, on an annualised basis, stood at 27 per cent in 2022-2023, up from barely 6 per cent a decade ago.
In fact, between 2012-13 and 2019-20, demat account growth ranged from 6 per cent to 15 per cent.
It jumped to 35 per cent in 2020-21, and 63 per cent in 2021-22, shows data from the National Securities Depository Ltd and the Central Depository Services (India) Ltd.
The massive investor interest, especially from retail participants, built up during the market crash of March 2020 against the backdrop of the Covid-19 pandemic.
According to the Securities and Exchange Board of India (Sebi), the markets regulator, new demat accounts being opened during April 2020 and January 2021 stood at around 10.7 million.
This was higher than the new accounts opened during 2019-20 and 2018-19 combined.
There are reasons aplenty for the retail rush, but, what has held the growth steady is the boom in discount brokerages.
Discount vs traditional brokers
By definition, a full-service, or traditional, broker is a broking company that provides a host of services to its clients, including buying and selling securities, investment advisory, and has brick-and-mortar offices, with online and offline customer support systems.
Discount brokers allow investors to trade in stocks and make other investments online. They provide only a trading platform, no advisory services.
Customer support is available only online.
Thanks to the growing digitisation, financialisation of savings, and the younger population catching on to the equity cult, discount brokers, such as Zerodha, Groww, 5Paisa, etc, gained muscle over the past few years.
While new-age brokers have been focusing on lower fixed brok­e­rage, the traditional ones are un­dergoing rapid changes to counter them.
They are diversifying their revenue streams and providing value-added services, including wealth management, research, advisory, and financial planning.
For instance, on September 25, HDFC Securities launched a discount broking all-in-one mobile app, HDFC SKY.
The rationale behind such moves is to regain some of the ground lost to discount brokers, says Arun Chaudhry, chief business officer at m.Stock.
An ICICI Direct Research rep­ort says most brokers witnessed a decline in the number of active clients in the first 10 months of 2022-23, but Zerodha, Groww, and Angel continued positive accretion, albeit at a slower pace.
The incumbents, or traditional brokerages, and the new ones, such as Upstox and 5Paisa, witnessed a moderation in market share, but Zerodha, Angel, and Groww continued to see increasing market share, the report adds.
"It took us six years to get to our first 60,000 customers, each of whom had to sign and courier over 40 pages of forms and wait for days.
"We got to 10 million customers in the next six years, en­tirely eliminating paper in the process.
"This was enabled by eKYC, digital signatures, and digital documents (Digilocker)," Zerodha's founder and chief executive officer, Nithin Kamath, wrote on X (formerly Twitter).
At present, Zerodha has 6.32 million active users, and Groww 5.99 million. Upstox is the third- largest discount broker, with 2.14 million active clients. 5Paisa has 0.51 million.
For comparison, Angel One's active client base stands at 4.55 million, ICICI Securities' at 2 million, HDFC Securities' at 1 million, and Motilal Oswal and Sharekhan's at sub-1 million.
The cost dynamics
Ease of use and low brokerage costs are other reasons why investors are downloading more discount brokerage apps on their phones.
Traditionally, the cost per order for a broker depends on the number of transactions on its platform.
Typically, discount brokers charge a flat fee of Rs 20 or Rs 10 per order, a traditional broker charges commission, or brokerage, as a per cent of the value traded, which usually ranges from 0.2 per cent to 0.5 per cent, suggests Vamsi Krishna, chief executive officer at StoxBox.
For Futures and Options (F&O) trades, the commission drops to 0.02 per cent to 0.05 per cent given the relatively voluminous activity.
So, if you place two intra-day orders daily and your discount broker charges Rs 20 per order, your annual brokerage totals Rs 9,600.
"On the other hand, assuming an average daily turnover of Rs 50,000, and a brokerage of 0.2 per cent, an investor would end up paying Rs 24,000 to a traditional broker annually," explains Arun Chaudhry, chief business officer, m.Stock.
Discount brokers also offer real-time transaction facilities across the globe and a seamless account-opening process.
Challenges ahead
That said, there are multiple challenges discount brokers need to overcome.
Increased operational, onboarding, customer support, and marketing costs dent their business model.
Changes in technology and increased regulatory compliance requirements by Sebi do not help.
"After technology, compliance is one of the core functions of a stock broker's business ecosystem.
"While we welcome all the changes being introduced by Sebi and the stock exchanges, there may be a dip in the margins in the near term," Krishna of StoxBox adds.
Industry stakeholders believe the margin squeeze and changing business trends are triggering consolidation in the broking industry.
Sebi, according to experts, seems to be concerned about a continued rise in the derivatives volumes, especially the increase in retail participation, tightening the rules in the last financial year.
"Given the increasing regulatory compliance and associated cost, consolidation is expected to continue with the alignment of small brokers with larger established players.
"Further, higher compliance expenses could trigger upward revision in brokerage rates," the ICICI Securities note suggests.
Source: Read Full Article