AMC stocks' Q1 after-party may be nearing an end
Asset Management Companies (AMCs) demonstrated improved business metrics in the first quarter ended June 2023 (Q1FY24), but a sharp run-up in stocks leaves little room for further upside in the immediate term, say analysts.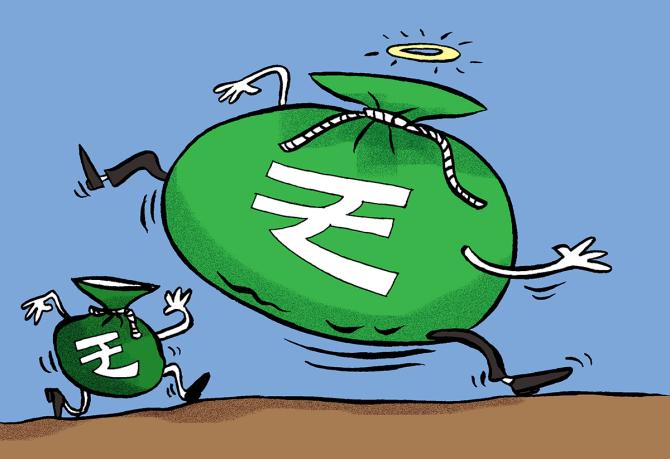 During this quarter, HDFC AMC reported a 10 per cent year-on-year (YoY) rise in revenue from operations at Rs 575 crore.
Nippon India's revenue from operations went up 12 per cent to Rs 354 crore.
Profits grew at a faster pace for both asset managers, thanks to a steep rise in other income.
While HDFC AMC's net profit was up 52 per cent YoY to Rs 478 crore, Nippon India's profit doubled to Rs 236 crore.
The other two listed AMCs — Aditya Birla Sun Life (ABSL) and UTI — also posted improvements in business metrics.
While ABSL managed to arrest the decline in its market share with improved scheme performances, UTI AMC surprised with a 60 per cent YoY rise in revenue from operations.
Net profit rose 155 per cent to Rs 234 crore.
ABSL's operational revenue rose 2 per cent to Rs 311 crore.
Profit went up 79 per cent to Rs 185 crore, propelled by a surge in other income.
The results for the forthcoming quarters are also expected to remain strong, especially for HDFC and Nippon, as most of their equity schemes are featuring in the top quartile in the returns chart.
This is expected to help them further improve their market share by attracting higher inflows.
Taking note of this trend, brokerages have re-rated the price-to-earnings (P/E ratio) of the two fund houses.
In its latest review of Nippon India, ICICI Securities has raised the price target to Rs 364 from Rs 236 while also revising the P/E multiple to 25x from 20x.
It sees a 14 per cent upside in the stock based on the revised metric.
However, in the case of HDFC, the brokerage believes that positives may have already been priced in.
"Post the 43 per cent stock price rally (of HDFC) since April 2023, there is limited upside considering the constant lag in revenue growth compared to AUM growth," ICICI Securities said in a recent note.
The brokerage has downgraded HDFC AMC's shares from 'Add' to 'Hold' with a price target of Rs 2,550.
ABSL AMC has earned an upgrade from the brokerage due to "improved earnings growth prospects driven by better fund performance, strong retail franchise, and revision in (proposed) total expense ratio (TER) regulation".
ICICI Securities has downgraded UTI AMC to 'Hold' on account of a declining outlook of yields and dip in market share.
Prabhudas Lilladher has a 'Buy' rating on the stock on the basis of comparatively cheap valuations.
The Securities and Exchange Board of India (Sebi), which had proposed a new expense (TER) structure for mutual funds to bring down costs for investors, is set to dial down the cuts in TERs.
This has allayed fears of a significant decline in margins for AMCs.
In the MF business, yields typically decline over time as regulations call for a reduction in fee with the rise in assets under management.
Analysts believe the decline in yields can be countered by shoring up volumes.
"Long-term prospects of the Indian AMC industry remain intact given the low penetration levels in India vis-à-vis developed countries and is a play on the financialisation of savings in India.
"The key to long-term profitability will be execution and building scale," Axis Securities said in its report on Nippon India.
Source: Read Full Article