Coinbase-explored Basic Attention Token's (BAT) Brave Browser Attains 10 Million Downloads
Before Coinbase decided to put Basic Attention Token (BAT) among the assets they are exploring, the cryptocurrency has been performing in the space.
Now, the Brave Browser, which rewards users with BAT, has reached a milestone of 10 Million Download on Google Play store. This is a giant milestone for BAT, which appears not so popular until Coinbase mentioned it is exploring it.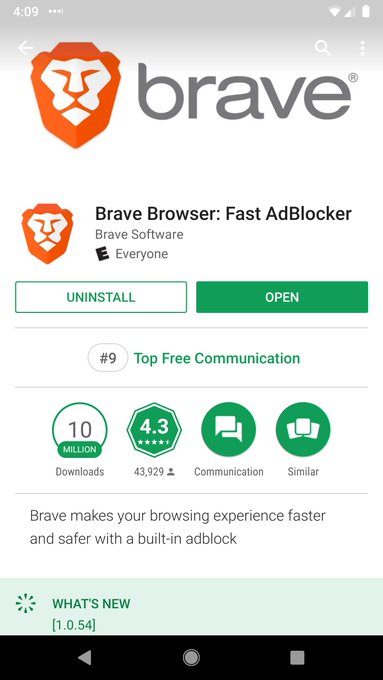 Thrilled that Brave for @Android now has over 10 million downloads!

Thank you to our users for choosing to browse faster and safer, and for valuing privacy protection! https://play.google.com/store/apps/details?id=com.brave.browser …
The browser is a fast, open source, and privacy-focused. It blocks malvertisements, trackers, and contains a ledger system that anonymously captures user attention to accurately reward publishers. On the browser users are rewarded for their contents.
"The Brave browser knows where users spend their time, making it the perfect tool to calculate and reward publishers with BATs. This service creates a transparent and efficient Blockchain-based digital advertising market."
Through the browser, publishers are rewarded with more revenue because middlemen and fraud are reduced. Those who use the browser are served with fewer but better targeted ads devoid of malware, while advertisers are receive better data on their spending.