Biden spotlighting voting rights as he returns to state that launched him toward presidency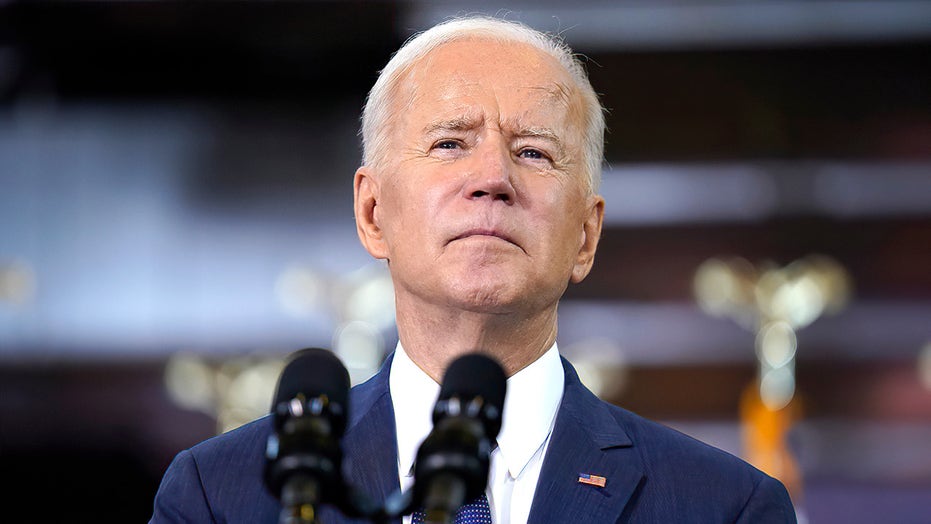 Biden addresses South Carolina State University's fall commencement ceremony
President Biden spotlighted his push "to protect the sacred right to vote" and honored his longtime friend and ally House Majority Whip Jim Clyburn during a visit to South Carolina on Friday.
And for the president, the trip was homecoming of sorts to a state where he has deep roots and which vaulted him towards winning the White House during the 2020 campaign.
Biden addressed December graduates at South Carolina State University, a historically Black school in Orangeburg. The president used part of his speech to push for a wide-ranging election and campaign finance reform bill that passed the Democratic controlled House along party lines earlier this year. But Republicans vehemently oppose the bill, which is stalled in a Senate split 50-50 between the two major parties. The GOP criticizes the measure as a federal power grab and takeover of the states' longstanding ability to control their elections.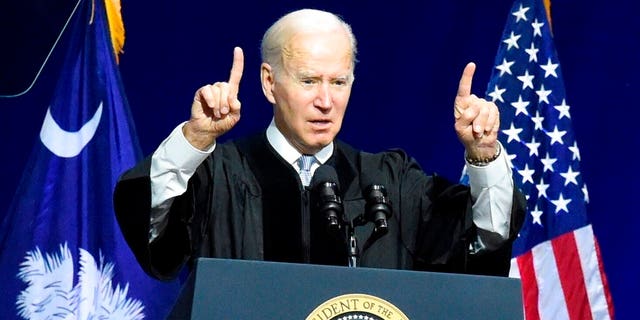 President Joe Biden speaks at commencement exercises for South Carolina State University on Friday, Dec. 17, 2021, in Orangeburg, S.C. (AP Photo/Meg Kinnard)
(AP)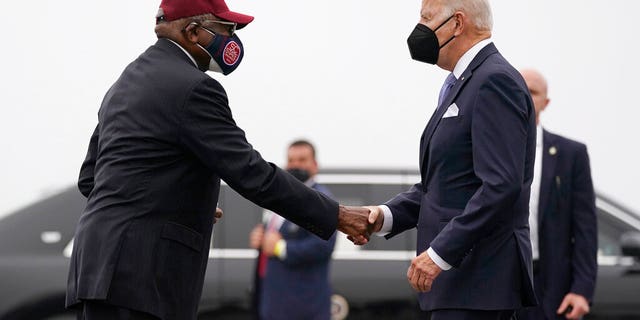 President Biden is greeted by Rep. James Clyburn, D-S.C., as he arrives at Columbia Metropolitan Airport on Air Force One in West Columbia, S.C., en route to South Carolina State University in Orangeburg, S.C., Friday, Dec. 17, 2021. 
(AP Photo/Carolyn Kaster)
Taking aim at moves by Republican controlled states to pass laws tightening voting access rules, the president said "I've never seen anything like the unrelenting assault on the right to vote."
And he charged that "this new sinister combination of voter suppression and election subversion is un-American."
The president accused Senate Republicans – whom he called "the other team," of blocking "the ability even to discuss it."
But Biden vowed that "this battle's not over. We must pass the Freedom to Vote Act and the John Lewis Voting Rights Act. We must. We're going to keep up the fight until we get it done."
South Carolina State University's also happens to be the alma mater of Clyburn, the highest ranking Black member of the House and the only Democrat in the Palmetto State's congressional delegation.
December commencement ceremonies didn't exist at the school when Clyburn graduated 60 years ago, so the longtime lawmaker received his diploma through the mail. Six decades later, Clyburn received his diploma in person, with Biden standing next to him.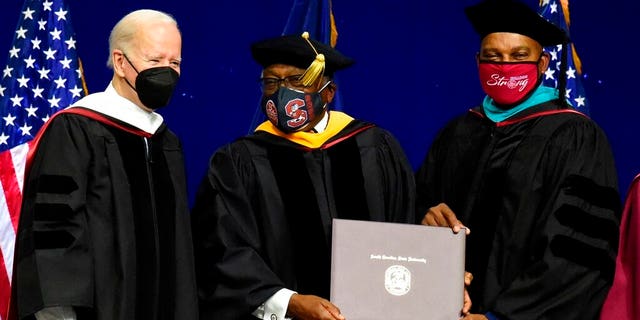 President Joe Biden, left, helps present a diploma to U.S. House Majority Whip Jim Clyburn, center, along with South Carolina State President Alexander Conyers, right, on Friday, Dec. 17, 2021, in Orangeburg, S.C. (AP Photo/Meg Kinnard)
(AP )
"Jim. I'm honored you asked me to be here as you receive your diploma," the president said.
Clyburn's endorsement and strong support of Biden during the 2020 Democratic primaries is also credited with helping the then-former vice president win their party's nomination.
After suffering a fourth place finish in the Iowa caucuses and a fifth place showing in the New Hampshire primary, Biden was in need of a big win. Following a distant second place finish to then-front runner Sen. Bernie Sanders of Vermont, Biden secured Clyburn's endorsement and rolled to a landslide victory in South Carolina.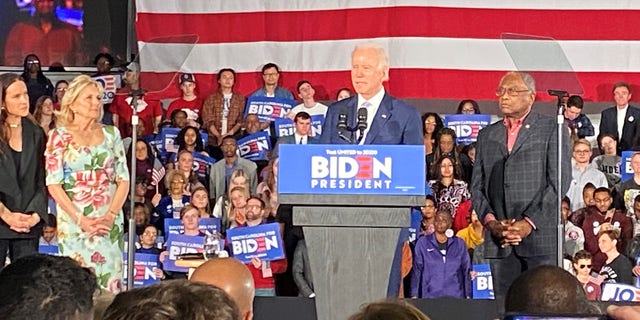 Then-former Vice President Joe Biden is flanked by his wife Jill and Rep. Jim Clyburn of South Carolina, as Biden gives his victory speech following a landslide victory in the South Carolina Democratic presidential primary on Feb. 29, 2020.
(Fox News)
"My buddy Jim Clyburn, you brought me back!" Biden said in his victory speech in Columbia, South Carolina in late February 2020. Three days later Biden rolled to a string of victories during the coast to coast Super Tuesday contests. A little over a month later Sanders – who was Biden's last remaining rival – suspended his campaign and backed the former vice president.
But the president's ties to South Carolina extend far deeper than the 2020 election. Biden and his family have been come to Kiawah Island, on the state's Atlantic coast, for years. And Biden was extremely close with the late Sen. Fritz Hollings during his years in the Senate.
Asked how he felt to be back in South Carolina upon his arrival, the president answered "it feels good" after disembarking from Air Force One.
South Carolina's top Republicans skipped the president's trip to their state. Republican Gov. Henry McMaster didn't welcome Biden upon his arrival in the state and GOP Sens. Lindsey Graham and Tim Scott – the only Black Republican in the Senate – didn't attend the president's speech in Orangeburg.
Source: Read Full Article