'Very concerned': Wages front of mind as small business goes to polls
Wages policy is shaping up as a possible last-minute vote decider for small business, with warnings founders are "very concerned" about possible legislated pay rises of more than 10 per cent under a Labor government.
"The opposition have been quite vocal about the fact they're going to really work to see real increases in minimum wages … small business owners that I have spoken to are very concerned about that," says chief executive of small business accounting firm MYOB, Tim Reed.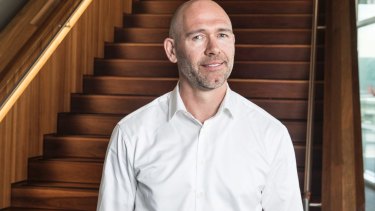 MYOB CEO Tim Reed said payment time continues to be an issue for small business. Credit:Jessica Hromas
After canvassing the views of the company's user base, Mr Reed said small business owners are torn between a desire for stable leadership following a period of turbulence under the Coalition, and a worry that wages under Labor may outstrip what they can afford.
Speaking to The Age and Sydney Morning Herald after addressing the Future Work Summit in Melbourne, Mr Reed said many key small business issues like tax cuts had been addressed by both parties.
Some businesses believe wages might go up by as much as 6 per cent under the policies of the opposition, while others have predicted 12 or 15 per cent, he said.
This week has seen the wages issue ramp up on the campaign trail, with Opposition Leader Bill Shorten pledging to make an increase to the minimum wage a top priority if Labor wins office on Saturday.
On Wednesday, the opposition pledged a small claims tribunal for workers for those not paid their entitlements.
The policies come as the quarterly wage price index rose 0.5 per cent, or 2.3 per cent seasonally adjusted.
"At 2.4 per cent, private sector wages are growing at the fastest pace for over four years. And in just under two years, wage growth has lifted from 1.8 per cent," CommSec chief executive Craig James wrote in a note on Wednesday.
In a press conference in Perth, shadow treasurer Chris Bowen said these were"very disappointing figures yet again".
In a policy explainer video released this week, Council of Small Business Australia chair Mark McKenzie told small business ombudsman Kate Carnell that wages increases would "cripple" smaller operators.
"In terms of wages policy, we've rated the ALP as a fail."
While the small business sector has "a lot of respect" for Mr Bowen, the sector would be looking to work with a possible Labor government on future wage increases, he said.
On Wednesday Mr Shorten told reporters it was clear the wages system wasn't working for everyday Australians.
He committed to consultation between businesses and unions around industrial relations policy should he win on Saturday.
"I will bring businesses into the same room as unions. I'll bring the small businesses too, because not all small businesses love big businesses," he said.
Follow MySmallBusiness on Twitter, Facebook and LinkedIn.
Source: Read Full Article