Thank You CoinGeek Live Sponsors
The CoinGeek Live conference is now behind us. After all the anticipation, the event exceeded expectations for both delegates and speakers, providing a platform for showcasing the latest exciting developments in the Bitcoin ecosystem.
The three-day event has been hailed a huge success, inspiring developers, entrepreneurs and other stakeholders on the massive potential of Bitcoin SV (BSV). We're already looking forward to the next event, and getting the chance to bring more people together in future as BSV continues its meteoric rise to the mainstream.
The conference wouldn't have been possible without the support of our sponsors. These partners are true pioneers in BSV, playing an important role in developing the ecosystem and showcasing the best of what bitcoin has to offer.
As we continue to reach more industries, more developers and more new markets for BSV, their support will have a vital part to play in helping make these conferences the standout events they have become.
In no particular order, we'd like to extend our thanks to the following sponsors and media partners for their role in making the CoinGeek Live Conference so successful.
Thank you to our gold sponsors: fabriik, Bitcoin Association, Cozen O'Connor, EHR Data, Kronoverse, NBdomain, nChain, TAAL, Omniscape, BsaV.io, and BitBoss.
Thank you to SCA Ontier, Elas Digital, Davis Wright Tremaine law firm, MetaStreme, Centbee, Blockchain Intelligence Group, TonicPow, BuyBSV.com, Codugh, and Fasken, as well as to our media partners for your support.
If you are interested in becoming a sponsor for a future event, we are keen to hear from you. Our conferences present a unique opportunity for our sponsors to engage in networking, both physically and virtually, as well as gaining exhibit space for Pitch Day events. With the backing of our energetic PR and communications team, plus CoinGeek News, we help give a platform to our corporate partners with the visibility generated by our conference events.
Check out the CoinGeek Conference website to find out how you can become a sponsor and exhibitor at the next CoinGeek conference.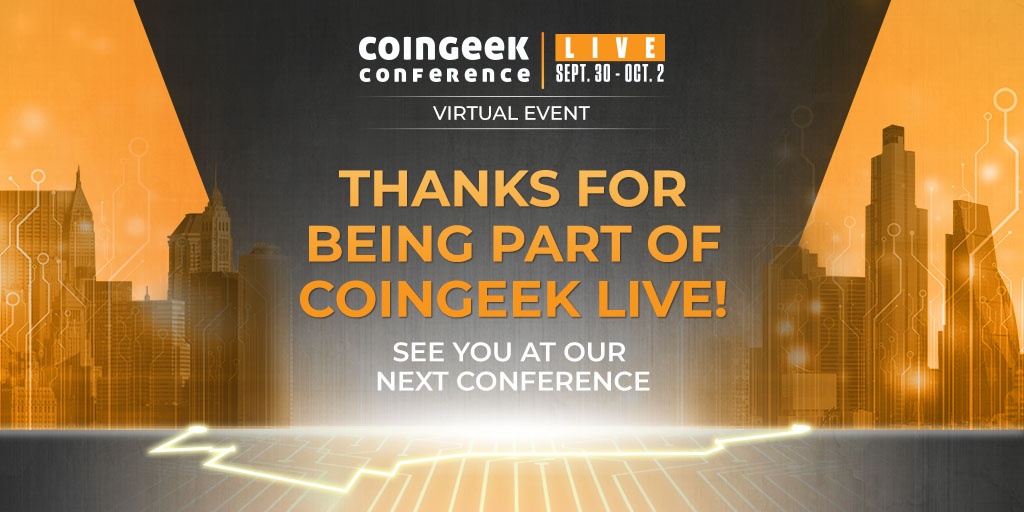 Source: Read Full Article