Selfie Can Make You Rich. On Selfllery
There are a lot of various social networks today, but all of them have the same issues.
Firstly, social networks hosting your visual content do not pay you off. Secondly, it is complicated for beginning bloggers to turn into real masters with a huge fanbase. Only pro bloggers, who have been in SMM for years, get paid. As for the 'ordinary bloggers', they have no choice but consume ads day by day for free and with no incentives for their contributions.
What is more, no social network has ever cared about helping the needy.
To find solutions to the mentioned issues, SELFLLERY has been designed. This is a multifunctional social platform created for sharing photos, videos, live streams with friends and subscribers, but the difference from usual social networks is that on SELFLLERY everyone will be rewarded in cryptocurrency for social activity.
SELFLLERY users automatically get rewards for each like or comment on their accounts in cryptocurrency which can be transferred to Ethereum wallet and managed as wished.
At first sight, SELFLLERY may seem a typical example of a decentralized platform based upon Ethereum Blockchain technology with a reward system employing ERC20 tokens by the name YOU. But its features make the platform an outstanding game changer.
According to Medium, SELFLLERY provides rewards for contributions , an opportunity to buy and sell photos , healthy competition through likes, ratings, multipliers, Photo Contests and Photo Quests , and a chance to donate to a charity you like   in a safe and transparent way, through Blockchain.
A wide range of SELFLLERY integrated modules includes photo stock, advertising platform, marketplace for photo-related goods and services, charity, photo contests and quests, copyright verification, and photo authenticity.
The two last modules include obligatory registration and access to IDs of all users, an AI system with a voice recognition function, anti-bot system, mandatory model releases for selfie-makers.
SELFLLERY allows to resolve some of the burning issues in visual content monetization on the Internet. It offers quick token withdrawal as opposed to average photo stocks, fair royalties to authors amounting to as much as 50% of the whole price at best, and no threshold amounts for token withdrawal.
You can also give as many tokens as you think appropriate to charity organizations varying in focus and limited to 6 types. Nevertheless, make sure that you donate not less than 5% of your reward. By the way, there is no upper threshold.
Today SELFLLERY has announced selling its tokens. In the first 48 hours of ICO tokens are being sold with 5% bonus.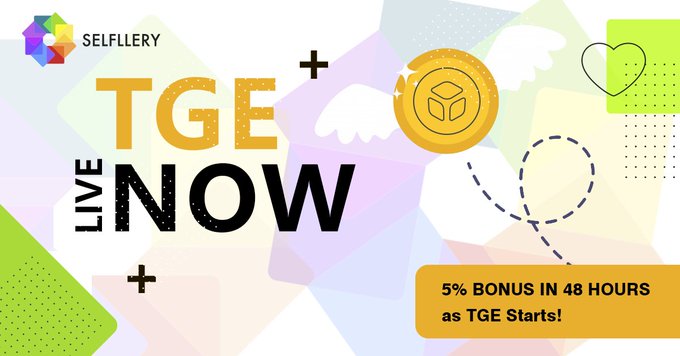 SELFLLERY seems to be so promising that it can become a competitor even for Facebook. Time will show.
Source: Read Full Article