House Passes 9/11 First Responders Bill Passionately Supported By Jon Stewart
The House on Friday approved legislation to extend funding for 9/11 first responders and their families until 2090.
The decision comes a month after the House Judiciary Committee unanimously passed the bill reauthorizing the September 11th Victim Compensation Fund in the wake of a strong rebuke from comedian Jon Stewart, who has long been an advocate for 9/11 responders.
The House voted 402-12 to approve bill, which now moves to the Senate.
Senate Majority Leader Mitch McConnell (R-Ky.) said Friday, "We will consider this important legislation soon." He did not indicate when chamber would take up the bill.
Senate Minority Leader Chuck Schumer (D-N.Y.) urged McConnell to hold the vote on the legislation promptly.
"This was an overwhelming expression of bipartisan support for our brave first responders and their families. Sen. McConnell should put the House-passed bill on the Senate floor for a vote ASAP and not let other Republicans push them to the back burner like the last time," Schumer said in a statement. 
Stewart has worked alongside first responders and advocates in putting pressure on Congress to ensure funding for 9/11 first responders and their families never runs out.
The comedian spoke to Congress in February and again in June about the VCF after the Justice Department announced that a lack of funding could lead to a 50% to 70% reduction in compensation for first responders who were exposed to toxins during 9/11 rescue and recovery efforts.
In an op-ed for the New York Daily News earlier this year, Stewart said roughly 45,000 people are suffering from at least one 9/11-related chronic health condition and more than 10,000 have been diagnosed with a 9/11-related cancer.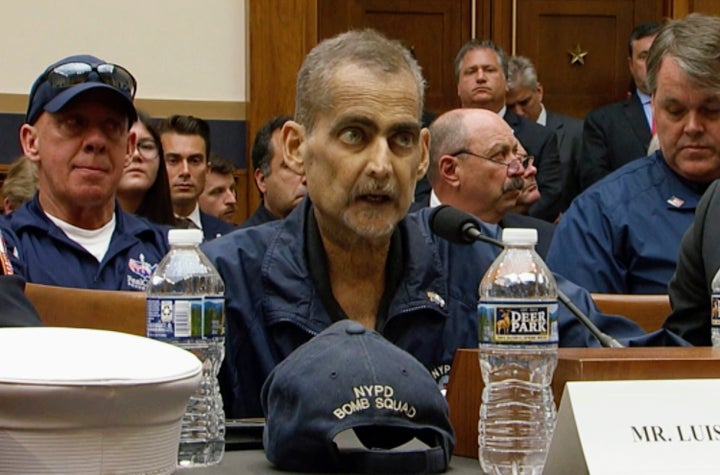 Luis Alvarez, a former New York City police detective who joined Stewart during the June hearing, died from cancer later that month. He traced his 2016 diagnosis of colorectal cancer to the three months he spent searching through ground zero after 9/11.
"This fund isn't a ticket to paradise, it's to provide our families with care," Alvarez told House Judiciary subcommittee members during the hearing. "You all said you would never forget. Well, I'm here to make sure that you don't."
Speaking at a press event on Capitol Hill ahead of Friday's House vote, Stewart again criticized lawmakers who have raised concerns about the cost of the program.
"It's like watching Joey Chestnut throw down 70 hot dogs on Coney Island and then at the end of it, not have a Coke because he's, you know, watching the calories," Stewart said, referencing the competitive hot dog eater. "Don't be nuts here. This is necessary. It is urgent and it is morally right."
House Panel Passes 9/11 Bill That Jon Stewart Passionately Lobbied For

Hundreds Turn Out For 9/11 First Responder Luis Alvarez's Funeral

Jon Stewart Tears Into Congress For Inaction On 9/11 First Responders Bill
Source: Read Full Article